Fifty years of caring for the capital
London Ambulance Service is 50 years old today (Wednesday 1 April) and will be celebrating with 'ambulance drivers' from the sixties meeting 21st century paramedics in old and new vehicles.
Fifty years ago suited 'ambulance drivers' picked up patients and took them straight to hospital but today, highly skilled clinicians, many with paramedic science degrees, diagnose and treat patients at the scene of incidents.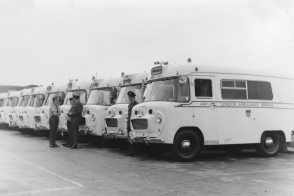 Chief Executive Dr Fionna Moore said: "Back in the old days we used to 'scoop and run' patients straight to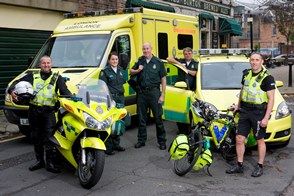 hospital. There was just a stretcher, a splint and breathing apparatus in the back of an ambulance and staff had eight weeks training.
"In contrast, today, we have a wide range of frontline staff, from emergency ambulance crew, through to advanced and consultant paramedics and have a paramedic at director-level on our Trust Board. Increasingly, our paramedics have a three-year paramedic science degree. They carry up to 30 different drugs and make life and death decisions about the most appropriate place to take a patient for treatment. Our ambulances are now kitted out with defibrillators to restart patients' hearts and ECG machines to detect heart attacks."
Peter Hayman, 74, who worked for the Service from 1965 to 1994, attended the ceremony at County Hall to mark the creation of the new ambulance service. He said: "I remember we introduced an inflatable splint which we thought was revolutionary because all we really had back then was a satchel of bandages and dressings but it's nothing compared to the kit they have on an ambulance today."
While technology and training has transformed the Service, Fionna says one thing which hasn't changed is the commitment of ambulance staff to the health and well-being of Londoners.
She said: "Fifty years ago the whole of the UK only had one million emergency calls for an ambulance. In London alone we now receive over 1.7m a year.
"Ambulance and control room staff are committed, caring and compassionate people who continue to work in extremely challenging situations to help save the lives of Londoners."
-Ends-
Notes to Editors:
On 1 April 1965, nine ambulance services merged to create London Ambulance Service.
Although the Service as we know it is only 50 years old, there have been ambulances working in the capital for well over 100 years.
Deptford Ambulance Station – where the media opportunity will take place – is 127 years old.
In 1965 we had 2,500 staff, compared to 4,500 now.
In 1965 women made up only six per cent of the workforce compared to almost half now (44 per cent).
We now have cars, motorbikes, push bikes and a helicopter as well as ambulances in our fleet of emergency vehicles, compared to just ambulances in the sixties.