Hearing impaired paramedic inspires woman to achieve her dream
A London Ambulance Service paramedic has inspired a hearing impaired woman to gear up for a career treating patients as part of a front line emergency response crew.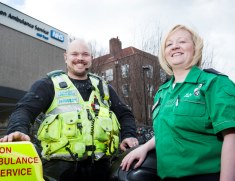 Father of three Richard Webb – Stevens, 40, was born deaf but has overcome obstacles to become a motorcycle paramedic with London Ambulance Service. During his career he has become involved with the Service's Deaf awareness forum, has taught lifesaving skills to the deaf community and has even appeared on BBC's See Hear.
Richard said: "Getting on the road to becoming a paramedic is no ordinary challenge but the London Ambulance Service has always supported me.  I am open and honest with colleagues about my hearing loss and explain that the best way to communicate with me is face to face, as I can lip read."
When Denise Gilligan, 36, heard about Richard's determination to succeed in his chosen career, she contacted him so that she could start to get on the road to achieving her dream of becoming a paramedic.
Denise is now taking her first steps to becoming a paramedic by working with the London St John Ambulance team that provides patient transport services for various NHS trusts.
Richard added: "I'm thrilled for Denise as she takes the first steps into her career, she is clearly passionate about taking on a job helping people. I've never let my disability get in the way of my dreams and I'm truly flattered that I have been able to inspire Denise to achieve hers."
The London Ambulance Service is currently recruiting paramedics as part of its 'No Ordinary Challenge' campaign. The campaign highlights the benefits of becoming a skilled paramedic in the world's busiest ambulance services.
Ends
To find out more visit http://www.londonambulance.nhs.uk/working_for_us.aspx   or www.facebook.com/noordinarychallenge