Greenwich Paramedic to receive Royal Commendation
A Paramedic from Greenwich is due to receive the Queen's Commendation for Valuable Service after saving lives in Afghanistan, where he was deployed as an army medic.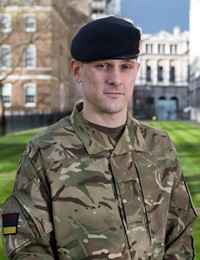 Ben Spittle, 30, from Bromley, has been in the army reserves for eight years and part of London Ambulance Service for six, took six months off over 2013/2014 to be deployed to Asia, where he served as a Private in the Royal Army Medical Corps.
Ben has been nominated for a Queen's Commendation for Valuable Service, after an operation to destroy Taliban strongholds in November 2013 resulted in a number of Afghan soldiers needing urgent medical care.
The army has said Ben "showed incredible skill and composure, dealing with life threatening injuries with the most basic makeshift medical facilities."
Ben, who attributes his work in the Service to his calm composure on that day, has since been promoted to Corporal.
He said: "It really was a team effort so I like to think that this award is for everyone working that day.
"I had the best possible experience preparing for this by dealing with trauma scenes on a day to day basis. Working for the Service really helped me manage my stress levels and take control of the situation."
The Queen's Commendation for Valuable Service recognises meritorious service during or in support of operations. Ben will meet the Queen and collect his commendation later this year.
-Ends-
Follow us on Twitter at www.twitter.com/ldn_ambulance or visit us on Facebook at https://www.facebook.com/pages/London-Ambulance-Service-NHS-Trust/1429957480579429