Paramedic calls on Crystal Palace residents to set up lifesaving defibrillator scheme
A paramedic has started a local Shockingly Easy campaign in Crystal Palace to encourage residents to learn to save someone's life if their heart stops beating, also known as cardiac arrest.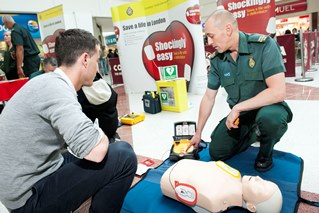 Chivers, who has been a frontline London Ambulance Service worker for 13 years, will be putting on a number of training sessions during March to teach Crystal Palace residents how to perform cardiopulmonary resuscitation (CPR) and to use a defibrillator, a machine that can shock the heart to restart it when it's in cardiac arrest.
Cardiac arrest is a serious public health issue in London. Every year, there are around 10,000 incidents but many of them are survivable if the patient receives prompt CPR and defibrillation – the first three to four minutes are crucial.
Tim said: "Around 32 per cent of people survive an out of hospital cardiac arrest but, where there is a defibrillator and someone trained to use it, the chance of survival can increase to 80 per cent."
"The training sessions will be a great opportunity for residents to learn some valuable skills that could potentially save the life of a relative, friend or neighbour.
"I have lived in Crystal Palace for seven years and I know that the residents are very community minded and look out for each other. It will be a pleasure to be able to contribute something to the local community."
If you are interested in attending one of the training sessions or would like information on purchasing a defibrillator for your local community or organisation please call the Shockingly Easy campaign on 020 7783 2366 or go to www.londonambulance.nhs.uk/shockinglyeasy
The London Ambulance Service's Shockingly Easy campaign aims to get at least 1,000 extra defibrillators into London. In its first eight months, the campaign has put an additional 650 defibrillators in the capital and saved at least 11 Londoners' lives.
-Ends- 
Notes to editors
Journalists are invited to attend one of our training sessions.
For more information, please contact the Shockingly Easy campaign manager on 020 7783 2167