London ambulance tutor wins international award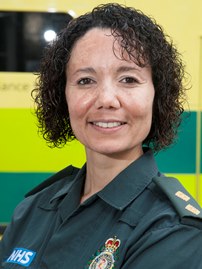 The work of a London Ambulance Service tutor has been recognised with an international award.
Rachel Phillips, 43, who joined the Service in 2002 has been invited to the JEMS Games*, taking place this month in the American city of Baltimore, to collect the prestigious innovator award.
She said: "I'm really humbled and very excited to receive this award. I really enjoy my job and it's fantastic to know I'm inspiring other people and improving patient safety."
Rachel, from Rochester, Kent, is the second British person to receive the award in the seven years they have been running.
Ambulance Operations Manager Steph Adams, who nominated Rachel, said: "Rachel is entirely flexible and will adapt her schedule to work around others, providing additional training where necessary. Her friendly, approachable nature means staff feel confident enough to admit their mistakes, leading to an environment which is clinically focussed, keen on development and generally much safer."
Rachel joined the London Ambulance Service as a medical technician and spent six years on the road treating patients before becoming a tutor and teaching new recruits.
She added: "I love the variety of my job and being in a position where I can clinically guide and support staff."
– Ends –
Notes to editors:
*The JEMS Games is an emergency medical services competition which introduces competitors and audiences to new techniques and technology used to treat patients. The competition also enables participants to share their expertise, experience, techniques and technology with colleagues from across the world.
For more information about London Ambulance Service or this news release please contact the communications department on 020 7783 2286.