West London Mental Health Trust leads the way with defibrillator scheme
West London Mental Health Trust today celebrates being the first mental health trust to receive an accreditation by the London Ambulance Service for rolling out defibrillators across all of its services.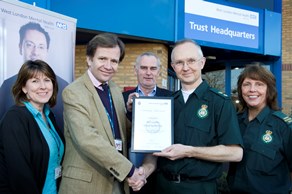 All staff, patients and visitors will get the best possible chance of survival if they suffer a cardiac arrest. Over 80 defibrillators are installed across more than 20 sites at the trust, including its community and inpatient services and Broadmoor Hospital.
All front line clinical staff are trained in emergency life skills including recognising the signs and symptoms of a cardiac arrest, giving CPR and using a defibrillator. This training is repeated on an annual basis.
The initiative is part of the London Ambulance Service's Shockingly Easy campaign to get 1,000 extra defibrillators in public places across the capital.
Dr Alan Cohen, director of primary care at the trust said: "We are delighted to be part of the Shockingly Easy campaign and we are particularly proud to be accredited by the London Ambulance Service.
"The trust is now able to offer emergency treatment for cardiac arrests for all patients, staff and visitors. We are integrating mental and physical health care and this accreditation is a step in the right direction to providing holistic care.
"We are also leading the way in identifying service users who are at risk of cardiac disease, and doing all that we can to reduce these risks. One example of this is in the move towards making the trust smoke free."
London Ambulance Service Operations Manager Chris Hartley-Sharpe said:  "When you have a cardiac arrest your heart stops and you are clinically dead. The quicker that CPR and defibrillation is given by a trained person, the greater the chance of survival.
"We want a defibrillator to be within easy access of anyone who suffers a cardiac arrest anywhere in London. I urge every mental health service in London to get a defibrillator today by calling the Shockingly Easy campaign.
"Around a third of people survive an out of hospital cardiac arrest, but where there is a defibrillator and someone trained to use it, the chance of survival can increase to 80 per cent."
For more information on how to get a defibrillator for your organisation and training on how to use it call the Shockingly Easy campaign on 020 7783 2366 or go to www.londonambulance.nhs.uk/shockinglyeasy
-Ends-
Notes to editors
The Shockingly Easy campaign was launched in May last year and in its first eight months it has saved at least 11 Londoners' lives and has installed an extra 650 defibrillators into the capital.
The Shockingly Easy accreditation scheme has been developed by the London Ambulance Service to give external recognition to companies that they are correctly using, storing and maintaining their defibrillators
There are now over 2,600 locations in London with at least one defibrillator and you should be able to find one in train and tube stations, museums and gyms.
About West London Mental Health NHS Trust
West London Mental Health NHS Trust is one of the largest mental health trusts in the country. It provides a full range of mental health services for children, adults and older people living in the London boroughs of Ealing, Hammersmith & Fulham and Hounslow in addition to specialist and forensic mental health services, including high secure services at Broadmoor Hospital