Trailblazing London Ambulance Service officer's Twitter presence promotes community engagement and awareness
London Ambulance Service has come a long way on social media since sending their first tweet in 2009 and now boasts a range of specialist accounts giving the public an understanding of day to day life in the world's busiest ambulance service.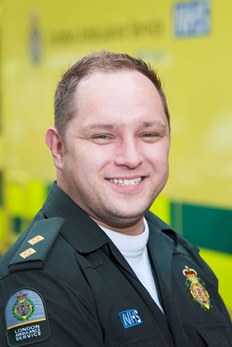 Leading the way on this digital foray is Chris Hawkswell, Emergency Planning Officer and Tactical Advisor in the Service's Emergency Preparedness, Resilience and Response department (EPRR) who has almost 6,000 followers on the micro-blogging platform as @LAS_TacAdvisor
Chris, 35, first started using a personal account after seeing it wasn't just a way for teenagers to chat with their friends, in fact, he says the emergency planning team has used it for information gathering for many years.
"During incidents such as the Vauxhall helicopter crash and Apollo theatre ceiling collapse we were able to see images and posts on Twitter by witnesses while on our way, and often we see tweets before the first 999 calls are made. The natural evolution was for us to start using social media to provide our own updates to the public during incidents and emergencies."
He added: "Social media allows the personality of our organisation to come through, which leads to people wanting to know more about what we do, and feel they're able to ask questions. It allows me to connect with thousands of people to get our messages across, and for like-minded resilience professionals to connect, share ideas and discuss best practice.
Chris, who joined the Service in 1999, tweets alongside the Service's seven other frontline accounts and has had a great experience so far.
He said: "There are many positives & rewards to using social media. Mostly, the daily interaction and feedback from the public, but also the online networking that occurs between other organisations locally and internationally.
"Social media has also been the catalyst to me being invited to speak at local events and international conferences as a direct result of the Twitter account"
Chris hopes to continue his work tweeting a day in his life, conducting question and answer sessions and preparing for busy events like the Virgin Money London Marathon in London.
-ENDS-
Notes to Editors
London Ambulance Service has several corporate Twitter accounts
To find out more about London Ambulance Service on social media, please follow @Ldn_Ambulance or like us on Facebook.
For high resolution photos and for all other enquiries, please contact the communications team at 020 7782 2286