London first for Biggin Hill community defibrillators
A community group in Biggin Hill is the first in London to provide life-saving 24/7 access to defibrillators on their streets as part of a London Ambulance Service campaign.
The Biggin Hill Resident's Association worked with the Shockingly Easy campaign, an initiative by London Ambulance Service to get 1,000 extra public defibrillators in London, to install two defibrillators.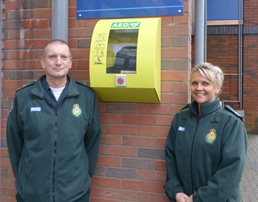 Community Defibrillation Officer Martin Bullock said: "There are over 10,000 cardiac arrests in London every year. When you have a cardiac arrest your heart stops, blood is no longer being pumped around the body and you are clinically dead. The quicker that CPR and defibrillation is given to a patient, the greater their chance of survival.
"The outside locations of the defibrillators mean that residents from Biggin Hill and the surrounding areas now have immediate access to 24 hour emergency treatment, which can often mean the difference between life and death.
"Around a third of people survive an out of hospital cardiac arrest, but where there is a defibrillator and someone trained to use it, the chance of survival can increase to 80 per cent."
It is hoped that the initiative will inspire other communities across London to raise the necessary funds to purchase defibrillators and run similar outside schemes.
Barrington Simner of the Biggin Hill Residents Association said: "We want to raise awareness amongst our residents of the serious risk of cardiac arrest and give them the confidence to use the machines if they suspect that someone is having a cardiac arrest.
There are over 2,700 locations in London with at least one defibrillator and you should be able to find one in train and tube stations, museums and gyms.
For more information on how to get a defibrillator for your community or business and training on how to use it call the Shockingly Easy campaign on 020 7783 2366 or go to www.londonambulance.nhs.uk/shockinglyeasy
-Ends-
Notes to Editors
Residents can find one of the defibrillators on the wall outside Tesco express on the main road in Biggin Hill and the other outside the Saddlery and Gunroom.
The London Ambulance Service is holding a number of free training courses in February to teach Biggin Hill residents how to recognise the signs and symptoms of cardiac arrest and how to use a defibrillator. Residents can call 01959 571360 today to reserve their place.
Journalists are invited to attend one of our training sessions on 12/13 February. For more information, contact the communications team on 020 7783 2286