London Ambulance Service crew assaulted twice in two days
A London Ambulance Service crew was assaulted twice in two days by two patients they were called to treat in West London.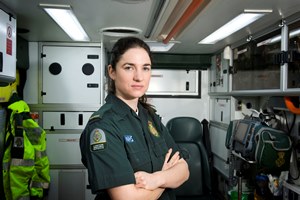 Catherine Maynard, a Fulham paramedic, and her colleague were called at 10.20pm to reports of a person unwell on Harrow Road near Wembley on Friday 16 January.  
James Macky, 50, of Quainton Street spat and swore at the crew before assaulting them and wedging himself underneath the ambulance. Police officers managed to get him out and he was arrested.
He pleaded guilty to five charges of assault and criminal damage and was sentenced to 28 weeks in prison at Hendon Magistrates Court on 19 January.
But not even a day after the first attack, on Saturday (17 January) Catherine and her colleague were assaulted again on a call near Cromwell Hospital in Kensington at 7pm
When they arrived, the patient they were treating became very volatile and seemed very agitated.
Catherine said: "We were in the back of the ambulance and the man tried to push me out the doors onto the A4.
"He threw our equipment across the floor and headbutted my male colleague in the chest. Thankfully we managed to subdue him before police arrived.
"I'd only been assaulted once in five years and then I'm assaulted twice in one weekend. It's frustrating that we are sympathetic to so many people, and then we're treated like this."
Director of Operations, Jason Killens, said: "Attacking my ambulance crews as they go about saving lives in the capital will not be tolerated under any circumstances.
"Medics are already under a great deal of pressure. It is completely unacceptable that they should also face the risk of assault when they go to assist members of the public."
-Ends-
Notes to Editor
In 2014, there were 415 reported cases of physical assault and 632 reported cases of verbal assault against London Ambulance Service staff.
For further information about the London Ambulance Service or this news release, please contact the communications department on 020 7783 2286.