Australia Day marks first shift on the road for paramedics from Down Under
While Australians celebrate their national day (26 January), with beer and barbecues on the beach, the paramedics who have flown over 10,000 miles to join the London Ambulance Service will embark on their first shift treating patients in the capital.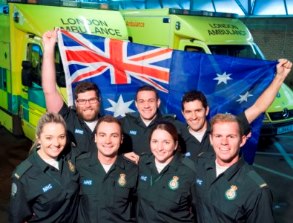 Around 175 paramedics from Australia are joining the Service and the first of the recruits have just completed their conversion course to enable them to work in London. While friends and family enjoy the public holiday back home, they will work on ambulances across the capital, dealing with everything from cardiac arrests and road traffic collisions to caring for sick patients.
Paramedic Mitchell Hand, a graduate paramedic from Sydney, said: "I saw London as a great place to start my career. It's the busiest ambulance service in the world and there are many different opportunities such as working on a motorbike, cycle or car or for the hazardous area response team, which we don't get back home.
"I'm looking forward to being out there in the hustle and bustle of London among the iconic buildings that I've only ever seen on the Monopoly board before."
Mitchell will start treating patients on the road today, having completed a three-week conversion course to learn about the different vehicles, equipment and drugs.
The national shortage of paramedics in the UK meant that the Service looked to Australia because their skills and training closely match those in the UK.
The Service's Director of Operations Jason Killens said: "We're thrilled that we've been able to attract so many Australian paramedics to come and work for us and look forward to welcoming more in the coming months.
"It has been such a success that we're going back to Australia in March to recruit more paramedics. We have so much to offer in London, which no other city has, including world famous events such as the London Marathon and Notting Hill Carnival and it's a great opportunity for Australians, as well as paramedics in the UK."
More information about how to apply to work for the London Ambulance Service can be found here: http://www.noordinarychallenge.com/
-Ends-
Notes to editors:
Interviews available
Please contact the communications department on 020 7783 2286 if you would like to attend.
Background
In September 2014, the Service went to Sydney, Adelaide, Melbourne and Brisbane, seeing over 200 candidates and recruiting 175.
The Service will be going out again to Melbourne and Sydney in March 2015, aiming to assess and interview up to 280 paramedics.
Australia Day is on 26 January, is a designated public holiday and commemorates the establishment of the first European settlement at Port Jackson, now part of Sydney, in 1788. It is an opportunity for Australians to come together to celebrate their country and culture.
The Service's recruitment campaign – London, No ordinary challenge – was launched last year and aims to recruit both in the UK and overseas.
Follow us on Twitter at www.twitter.com/ldn_ambulance or visit us on Facebook at https://www.facebook.com/pages/London-Ambulance-Service-NHS-Trust/1429957480579429