Keep well in the cold weather
The London Ambulance Service is urging people to take care during the cold weather after the Met Office issued a cold weather alert for the capital.
Past experience shows when cold weather sets in, the Service is put under additional pressure with an increase in falls and breathing problems.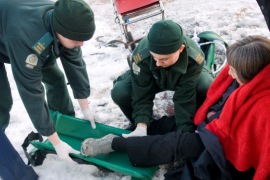 Londoners are reminded to keep well this winter and choose the right place to access help for their health problems.
Deputy Director of Operations, Kevin Brown says: "We prioritise care to the most seriously ill and injured people. If you are suffering from minor injuries/illnesses please consider calling NHS 111, visiting your pharmacist or GP or alternatively making your own way to hospital. Please only call us in an emergency."
The Service is advising people to take care on icy pavements, wrap up warm and wear suitable footwear.
Tips for keeping well over the winter:
Choose the right place for your health problems such as a GP surgery, a walk-in-centre or call NHS 111 for minor illnesses/injuries
Consider making your own way to hospital if it is not an emergency
Make sure you have a well-stocked medicine cabinet at home
Make sure you wrap up warm when at home or going out
Look after yourself and vulnerable relatives, friends or neighbours, in particular the elderly and children
For those travelling by car, drive carefully and allow extra time to meet your destination. Keep a blanket, snow shovel and fluids in the car.
-Ends-
Notes to Editors
For further information about the London Ambulance Service or this news release please contact the communications department on 020 7783 2286.
Follow us on Twitter at www.twitter.com/ldn_ambulance or visit us on Facebook at https://www.facebook.com/pages/London-Ambulance-Service-NHS-Trust/1429957480579429