Hearing problems not a limitation for paramedic
A motorcycle paramedic who works to improve ambulance care for the deaf community will appear on BBC See Hear tomorrow (Wednesday 14 January).
Richard Webb-Stevens was interviewed about his work in the London Ambulance Service Motorcycle Response Unit as well as his work teaching lifesaving skills to the deaf community.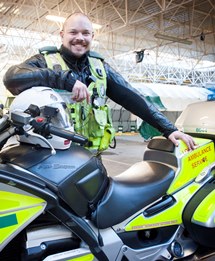 Richard, 40, who has severe hearing loss and uses hearing aids, said: "I've never let it hold me back and hopefully this programme will help to raise awareness for people with hearing difficulties that you can overcome barriers, with the help of education and technology."
The programme will also feature Richard teaching lifesaving skills at Brent Deaf Club.
Richard, whose wife Marie works as a British Sign Language interpreter, added: "As far as I'm aware we're the only ambulance service in the UK teaching a course in British Sign Language without the use of an interpreter. It's great to be able to give people with hearing problems the opportunity to learn these vital skills.
 "One in seven people in the UK are affected by some degree of deafness, so we're encouraging the use of the 'emergencySMS' service, which allows deaf, hard of hearing and speech impaired people to contact 999 by sending a text message."
The father of three, who is involved with the Service's Deaf Awareness Forum, will feature in the programme along with a GP and a medical student.
BBC See Hear will be aired on BBC Two at 10.30am on Wednesday.
– Ends –
Notes to editors:
Follow us on Twitter at www.twitter.com/ldn_ambulance  or visit us on Facebook at www.facebook.com/londonambulanceservice