Jazzy Graham jingles all the way for charities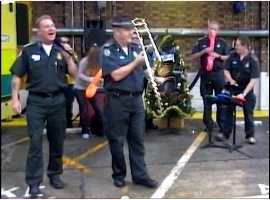 Bob Geldof isn't the only pop star to revamp a classic for charity this festive season – an Isleworth paramedic has got in on the act too with his own spin on a Crimbo corker.
Graham Card, duty station officer at Isleworth station, had 'Noel' reservations about performing 'Have a Holly Jolly Christmas' with his team-mates to raise money for Help for Heroes and London's Air Ambulance.
The caring crooner, 55, recorded his special cover for YouTube in the ambulance garage, changing the words to thank emergency services workers and members of the armed forces at home and overseas for their hard work, cheekily asking his fans to 'kiss a paramedic for me'.
Graham said: "I just wanted to thank a lot of people for their hard work and bring a bit of fun. If every person who watches the video gives only a pound, we'll have made a difference.
"I hope it changes the profile of paramedics and people see us in a different light."
Over 5,000 people have watched musical medics Graham and Chris Braybrook, Team Leader, who plays trombone while wearing a fetching fedora and other Isleworth staff (not to mention Milo the dog)and the number keeps rising.
If you're dreaming of a blue-light Christmas, or need 10cc of holiday cheer, watch Paramedic Graham here
Don't forget to donate £1 to Help for Heroes or London's Air Ambulance.