London ambulance medics hand out gifts to poorly children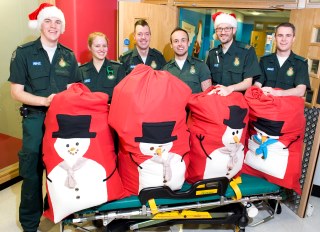 Hundreds of presents donated by London Ambulance Service staff and their families are being given to sick children who will spend this Christmas in hospital.
Paramedic Nigel Flanagan, who works out of Oval ambulance station, and his team of helpers collected over 500 gifts for children from babies up to 16 years old.
Nigel, who has been coordinating the present collection for the last three years, said: "Everyone has been really generous and gifts have been donated from people right across the Service, from medics to emergency call takers to back office staff and their friends and family and even people who have heard about it and wanted to donate. We had four bags donated from a charity."
Presents have already been given out to some schools for children with complex learning needs and Demelza Hospice in Eltham. Today and Christmas day, a team of ambulance 'elves' will go to local hospitals in South London including King's College Hospital, St Thomas' Hospital to distribute the presents to children.
Nigel added: "It started off as a small project three years ago when a few of us collected presents for the local hospitals and I'm overwhelmed by how much it's snowballed and how generous people are. It's great for the children who are always delighted to get a present when they can't be at home at Christmas. It's also nice for our staff, who often are working during Christmas and are not with their families, to see the pleasure it brings the children and their families is very rewarding."
-Ends-
Notes to editors:
For further information about the London Ambulance Service or this news release please contact the communications department on 020 7783 2286.
Follow us on Twitter at www.twitter.com/ldn_ambulance or visit us on Facebook at www.facebook.com/londonambulanceservice
Look at our latest photos from around the Service at www.flickr.com/londonambulance