Ambulance service urges people to use them wisely over Christmas
The London Ambulance Service is urging people to use them wisely and plan ahead this Christmas.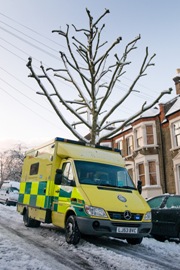 Londoners are reminded to only call for an ambulance in a genuine emergency unlike some recent callers who have requested blue lights for a cat with a broken leg, a person with a tissue in his ear, and a woman with period pain.
On Christmas day last year staff attended 2,682 incidents across London.
Hounslow Ambulance Operations Manager Stuart Crichton said: "Christmas and New Year is always an extremely busy time of year however, Londoners can help by only calling 999 in a genuine emergency.
"Our priority is to get to the most seriously ill and injured as soon as possible. Anyone calling with less serious injuries potentially delays a response to a more serious call.
"For those suffering from less serious problems please ring NHS 111, visit your pharmacist, book an appointment with your GP or alternatively make your own way to hospital."
People are also reminded to pick up prescriptions and refill medicine cabinets over the festive period to prevent unnecessary ambulance call outs.
-Ends-
Notes to editors:
For further information about the London Ambulance Service or this news release please contact the communications department on 020 7783 2286.
Follow us on Twitter at www.twitter.com/ldn_ambulance or visit us on Facebook at www.facebook.com/londonambulanceservice
Look at our latest photos from around the Service at www.flickr.com/londonambulance