Christmas with a difference for ambulance workers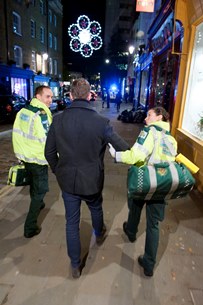 From treating people who have overindulged or drunk too much alcohol, to helping frail elderly patients who have fallen over and have nobody else to call – it won't be your average Christmas for ambulance workers in London.
The work does not stop on Christmas day for hundreds of London Ambulance Service medics and emergency call takers who will be helping ill and injured patients across the capital this festive season.
Emergency Medical Technician Gemma White, based at Newham, said: "We're a 24/7 service and our patients still need our help on Christmas day – it's a normal busy working day.
"I've worked on Christmas day for the last 10 years and I've found there are always more incidents in people's homes as they don't tend to go out as much. Examples include people who've drunk too much, burnt themselves cooking the dinner, or have been taken unwell. I also remember going to an elderly lady who had fallen badly at her home the night before and had only been found on Christmas day. For some people, we might by the only people they see on Christmas day."
On Christmas day last year staff attended 2,682 incidents across London.
Gemma added: "Londoners can help us this Christmas by only calling for an ambulance in a genuine emergency. If you've got a minor illnesses or injury, please consider calling NHS 111, or going to a pharmacist, walk-in centre or GP.
"Please also make sure you've stocked your medicine cabinets before the Christmas break when pharmacists will be closed. That will prevent us being called to help people who have run out of their medication."
-Ends-
Notes to editors: