Booze bus and alcohol recovery centres open for party season
Festive drinkers in the capital are being urged not to overdo it at their Christmas parties this week as London Ambulance Service prepares itself for the worst.
While the Service hopes its 'Party People' campaign will encourage Londoners to drink sensibly, look after their friends and plan their journeys home, it is also setting up five alcohol recovery centres and is running extra 'booze buses'.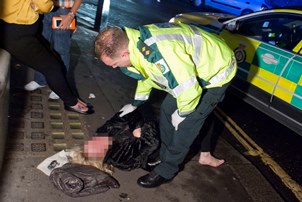 Deputy Director of Operations, Kevin Brown, said: "We hope people will see our 'Party People' campaign and think twice about over doing it with alcohol this year. But sadly, we know from experience, that hundreds of Londoners will end their night in the back of an ambulance this party season.
"We can be called to people who have fallen in the road or on railway tracks or been involved in fights – often because they've had too much to drink."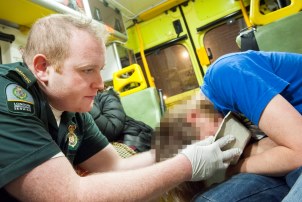 The Service has joined up with the Mayor of London to run the 'Party People' campaign and will have posters going up in underground stations across the capital from Sunday (14 December).
It will also be running specially adapted ambulances – better known as 'booze buses' – to respond to patients with alcohol-related illness and injuries before they are taken to one of five recovery centres.
Last December the Service treated over 6,000 patients with alcohol-related injuries in the capital and it is expected to be just as busy this year.
Kevin said: "We want people to have a good time but we know from experience that many Londoners drink far too much alcohol on a night out, especially during the festive period.
"Most patients we look after have nothing wrong with them medically and just need a safe place to sober up. But excessive drinking can cause injuries, like sprains and cuts, and impair judgement putting people at risk as well as the long term health impacts it may have."
Paramedic led alcohol recovery centres provide an alternative to busy A&E departments and can help to free up hospital beds.
Kevin added: "There are some common sense steps you can take to have a safe night out, like eating a proper meal before going out and pacing your drinking. Also, have a plan on how you are getting home and look after your friends.
"Please drink responsibly so that you don't end up in the back of the 'booze bus' or in one of our alcohol recovery centres this party season."
-Ends-
Notes to Editors
The Kingston alcohol recovery centre is open this weekend (12 December)
Four other centres in Croydon, Soho, Liverpool Street and Romford will be open from next Thursday for three days (18 December).
A booze bus can carry up to three patients at a time helping to free up frontline ambulances to respond to patients with life-threatening injuries.
In 2012 / 13 the London Ambulance Service attended 71,724 alcohol related incidents and in 2013 / 14 attended 72,535 – an increase of 1.13 per cent.
In December 2012 the London Ambulance Service attended 5,885 alcohol related incidents and in December 2013 attended 6,194 – an increase of 5.2 per cent.
6.6 per cent of the incidents the London Ambulance Service attended in 2013 / 14 were alcohol related. 1,090,277 incidents of which 72, 535 were alcohol related.
10,266 calls to the London Ambulance Service in 2013 / 14 were due to someone who had fallen after drinking alcohol. This peaked in December which had over 1,000 alcohol related falls alone.
In 2013 / 14 the age group who made the most alcohol related calls to the London Ambulance Service was 25 – 29 year olds.
For further information about the London Ambulance Service or this news release please contact the communications department on 020 7783 2286.
Follow us on Twitter at www.twitter.com/ldn_ambulance or visit us on Facebook at www.facebook.com/londonambulanceservice
Look at our latest photos from around the Service at www.flickr.com/londonambulance