London Ambulance Service tops Twitter tables
London Ambulance Service's Twitter account has been named one of best in the country, according to analysis of social media in the NHS.
The @Ldn_Ambulance account has been ranked second out of 50 NHS organisations using Twitter.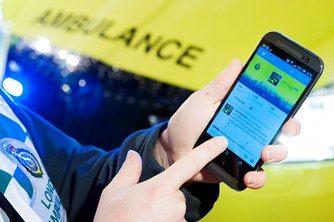 The account has 38,600 followers and is used daily to offer advice during high profile incidents, to encourage Londoners to use 999 wisely and also promote public awareness campaigns.
Communications Director Charlotte Gawne said:  "Twitter is a great way for us to talk to Londoners about what we do. It shows the huge range of calls we attend and demonstrates how highly skilled our staff are.
"Patients also use Twitter to feedback back on their experience and we know social media is another way we can be an open and transparent organisation."
The Service was also named one of the NHS 'stealth revolutionaries' – an organisation with high interest and engagement with other NHS or health social media accounts.
It is now encouraging its staff to tweet about the jobs they do and has eight specialist teams and individual Twitter accounts.
The report — On the brink of SoMething Special — is the result of nine months of research and analysis of NHS social media carried out by consultancy firm JB McCrea, supported by NHS Providers.
-Ends-

Notes to editors
For more information about this press release or the London Ambulance Service please call 020 7783 2286 or email [email protected].
About the London Ambulance Service
We are the busiest emergency ambulance service in the UK to provide healthcare that is free to patients at the time they receive it. We are also the only London-wide NHS trust.
We have over 4,500 staff, who work across a wide range of roles based in 70 ambulance stations. We serve more than seven million people who live and work in the London area.
For more information please visit: http://www.londonambulance.nhs.uk/.
Follow us on Twitter at www.twitter.com/ldn_ambulance  or visit us our new Facebook page