Bromley lifesaver reunited with cardiac arrest survivor
A London Ambulance Service paramedic from Bromley has been reunited with a cardiac arrest patient that he helped to save at Victoria train station.
Hassan Shakir was part of the Deptford ambulance crew that responded to the 999 call made by station staff when 52-year-old Fiona Stoten turned grey, stopped breathing and collapsed outside platforms five and six in September last year.
She had suffered a cardiac arrest, which means her heart had stopped beating and she was clinically dead.
Fiona was initially kept alive by two police officers who gave her emergency CPR and a shock from a public access defibrillator, which was used to restart her heart, before Hassan and his crew arrived on scene four minutes later.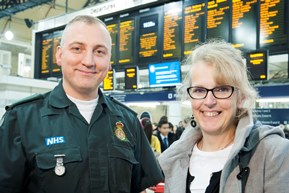 Hassan said: "When someone has a cardiac arrest, the quicker they receive CPR and defibrillation, the greater their chance of survival. The quick thinking actions of the police officers dramatically increased our odds of resuscitating Fiona when we gave her another defibrillator shock a few moments later."
Fiona was taken to St Mary's Hospital and went home two weeks later after being fitted with an internal defibrillator, which will restart her heart if it stops again in the future.
Fiona said: "I feel extremely lucky that the police officers knew what to do and that I collapsed in Victoria train station where there was a public access defibrillator. In my opinion, everybody should learn CPR and every public place and business should have a defibrillator installed so that more lives can be saved like mine was."
The London Ambulance Service's Shockingly Easy campaign aims to install 1,000 additional defibrillators in shops, businesses and gyms within a year. The campaign recently celebrated putting an extra 493 defibrillators into the capital and saving 10 Londoners' lives in its first six months.
There are now over 2,600 locations in London with at least one defibrillator and you should be able to find one in train and tube stations, museums and gyms.
Around a third of people survive an out of hospital cardiac arrest, but where there is a defibrillator and someone trained to use it, the chance of survival can increase to 80 per cent.
For more information on how to get a defibrillator for your business and training on how to use it call the Shockingly Easy campaign on 020 7783 2366 or go to www.londonambulance.nhs.uk/shockinglyeasy
-Ends-
Notes to editors
For further information about the Shockingly Easy campaign and to request an interview or defibrillator demonstration, please contact the communications department on 020 7783 2286.
A cardiac arrest is when the heart stops pumping blood around the body. This is different to a heart attack, which is when an artery becomes obstructed, restricting the flow of blood to the heart.
CPR is short for cardiopulmonary resuscitation which includes chest compressions and rescue breaths.