Get the party started and end it safely
The London Ambulance Service's Christmas alcohol campaign!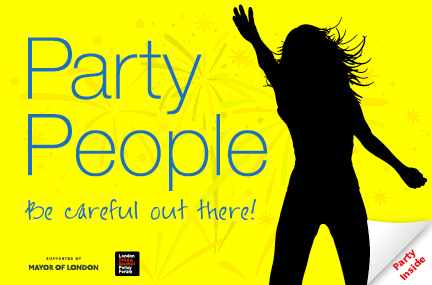 With less than four weeks to go until 'Black Friday' the biggest party night of the year (19 December), the London Ambulance Service (LAS) is launching a campaign encouraging Londoners to eat, drink and be merry but get home safely and avoid a trip to the emergency department.
The 'Party People!–be careful out there' campaign highlights what party goers in the capital can do to have a great, safe party and will run throughout the Christmas and New Year party season.
Funded by the Mayor of London, as part of his on-going commitment to highlight the harms of excessive alcohol consumption and the burden it places on the emergency services, the campaign which is also supported by the City of London and Transport for London, will include advertising across the tube network in December and see thousands of party planning packs distributed to businesses in central London to help their staff have a safe and fun night out.
Medical Director, Fionna Moore said: "Too often our ambulance crews are being called on to look after party goers who have had too much alcohol on a night out. Last December alone we went to help over 6,000 Londoners in alcohol-related incidents.
"We want everyone to have a great time so our message to Londoners is don't ruin the party by ending up unwell or injured, or suffering from the effects of the cold weather.
"We are asking people going out to celebrate this year to plan ahead, think about how much they are drinking and stick with their friends, so they don't end up in an ambulance heading for an emergency department."
Deputy Mayor for London, Victoria Borwick, who joined a joint response unit vehicle on Friday (21 November), said: "While the vast majority of people heading out to enjoy the party season will never need the assistance of the emergency services, the burden of those who do is putting the capital's ambulance crews and other blue light services under enormous pressure.
"We want everyone to enjoy the fantastic nightlife on offer in the capital, have a great time and get home safely which is why we're supporting this year's campaign. Taking just a few minutes to plan before you head out can make a huge difference and we'd encourage everyone to be prepared."
-ENDS-

Notes to editors:
The joint response unit is operational in 10 London boroughs, where a paramedic car is specifically available to deal with police requests to provide on-scene triage, assessment and treatment, reduce MPS wait times and reduce the number of ambulances dispatched to these incidents.
In 2012 / 13 the London Ambulance Service attended 71,724 alcohol related incidents and in 2013 / 14 attended 72,535 – an increase of 1.13 per cent.
In December 2012 the London Ambulance Service attended 5,885 alcohol related incidents and in December 2013 attended 6,194 – an increase of 5.2 per cent.
6.6 per cent of the incidents the London Ambulance Service attended in 2013 / 14 were alcohol related. 1,090,277 incidents of which 72, 535 were alcohol related.
10,266 calls to the London Ambulance Service in 2013 / 14 were due to someone who had fallen after drinking alcohol. This peaked in December which had over 1,000 alcohol related falls alone.
In 2013 / 14 the age group who made the most alcohol related calls to the London Ambulance Service was 25 – 29 year olds.
For further information about the London Ambulance Service or this news release please contact the communications department on 020 7783 2286.
Follow us on Twitter at www.twitter.com/ldn_ambulance or visit us on Facebook at www.facebook.com/londonambulanceservice
Look at our latest photos from around the Service at www.flickr.com/londonambulance