Twickenham medic commended for flood support
A Twickenham paramedic has been recognised for 'going above and beyond' to help Wraysbury flood victims.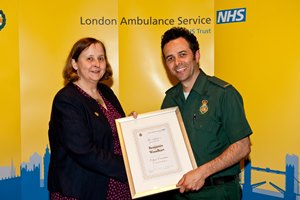 Ben Woodhart, 42, was among 35 London Ambulance Service staff commended during a ceremony in Westminster on 1 May.
When the father of three saw the impact of the flooding in his home village of Wraysbury earlier this year, he and other residents decided to take action.
He said: "The local school was used as a coordination centre and myself and another resident took over the running of it. We set up phone help lines and managed to get hold of a canoe to get to homes of vulnerable people and take them to safety. The operation grew quickly and soon there were four phone lines ringing continuously and over 100 volunteers waiting to be tasked to help. We also set up a Facebook page to get messages out to the community."
The hundreds of calls were from people who needed every sort of help, from getting to hospital appointments and elderly people who couldn't lift sandbags, to someone whose fish had escaped from their pond and were swimming up and down the road.
This 24/7 operation carried on for two days before the Army and emergency services arrived. But even then, Ben was the liaison between the residents and the emergency services.
Ben's 14 years as a paramedic helped him to manage the coordination centre. He added: "I've been involved in several major incidents in the past including Ladbroke Grove train crash and a big coach crash. We were able to share our local knowledge and a list we had written of all the vulnerable people in the village and what help they might need.
"It felt like the longest resuscitation I've ever done in my life and I was exhausted afterwards. I was a resident first and foremost, protecting our village and using my experience to do that."
Ben received a Chief Executive commendation after being put forward by colleagues from South Central Ambulance Service.
London Ambulance Service Chief Executive Ann Radmore said: "This award is for exceptional people who have gone above and beyond what is normally expected of them, and are a real credit to our Service and to Londoners."
-Ends-
Notes to editors: