East ambulance workers' dedication praised at ceremony
Two London Ambulance Service medics who served Romford and Whipps Cross for nearly a century combined have been recognised for their work.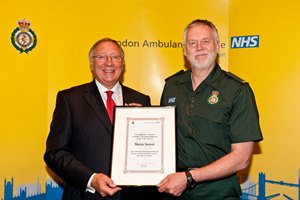 Martin Sawyer, 61, who officially retired after 33 years, and Peter Knight were among 35 people to be commended during a ceremony in Westminster last night (1 May).
Martin joined the Service in 1981 and spent 25 years at Romford ambulance station, before working at Becontree and Hornchurch.
He recalled an incident many years ago when he was called to a woman in a high-rise block in Dagenham with stomach pain.
He said: "When we reached the patient she was sitting on the toilet and on closer inspection there was a baby down the toilet, which was lifeless. We couldn't find a heartbeat so we cut the cord, and started to resuscitate him. The woman was shocked as she didn't even know she was pregnant."
Miraculously, they managed to save the baby and he was rushed to intensive care. Eight years later, Martin was called to treat a woman after a TV fell on her foot.
The father-of-two added: "While I was treating her she said 'you're Martin aren't you? I'm the woman you helped with the baby in the toilet'. I couldn't believe that she remembered us. Then in walked her eight-year-old son, who she had named after myself and my crewmate. It really was unbelievable, and one of the highlights of my career."
Recently retired emergency medical technician Peter Knight from Becontree was also given a Queen's Long Service and Good Conduct medal.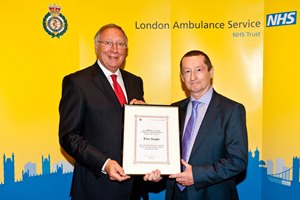 Peter, who was based at Becontree station for 23 years, recalled attending a dog attack in 2008.
He said: "When my crewmate and I got there, a mastiff was attacking a 32-year-old man. I managed to fight the dog off with a baseball bat and the patient was luckily OK. I was just doing my job, as anyone else would."
Chairman Richard Hunt said: "We were incredibly proud to recognise these staff for their bravery and dedication. Their commitment over the years has ensured that Londoners get the very best urgent and emergency medical care."
-Ends-
Notes to editors: