Barnehurst medic commended for 'courageous rescue'
A Barnehurst medic has been recognised for 'going above and beyond' and rescuing a patient who collapsed in a smoke-filled room.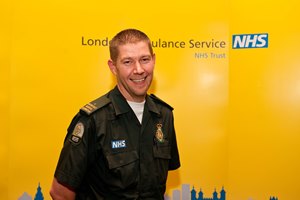 London Ambulance Service Emergency Medical Technician Murray Smith was the first at the scene in his fast response car to a reported fire in Thamesmead in March.
When he arrived at the building in Lytham Close, he could hear a person inside and smelt burning.
Murray, 40, from Belvedere, said: "I feared for the patient's safety because the call came into us as a fire, so I kicked the door down. There was a lot of thick black smoke so I couldn't see much. Shortly after, the fire brigade arrived and helped me carry her out so I could start to treat her and give her oxygen."
The father of three, who has been a medic for 14 years, also helped six other residents in the building, including children and a baby, get out safely.
Duty Station Officer Daniel Barnwall, who nominated Murray for the award, said: "Murray was there on his own at first and had to act quickly and assess the risks.
"It was extremely courageous of him and by getting into the building, he gave the patient the best possible chance of survival."
The patient was airlifted to the Royal London Hospital and received further treatment at Whipps Cross Hospital.
Murray received a Chief Executive commendation at a ceremony in Westminster on 1 May.
London Ambulance Service Chief Executive Ann Radmore said: "This award is for exceptional people who have gone above and beyond what is normally expected of them, and are a real credit to our Service and to Londoners."
-Ends-
Notes to editors: