Industrial action – warning of ambulance delays on 24 November
London Ambulance Service is expecting to be under significant pressure on Monday (24 November) when ambulance staff take strike action for a second time in a national dispute over pay.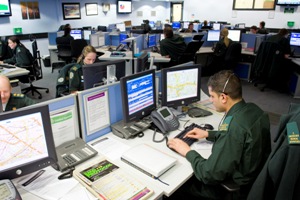 In the last dispute held in October, 14 per cent of control room staff and 77 per cent of ambulance crews took action and the Service is expecting similar numbers this time.
Director of Operations Jason Killens said: "Only people in a life threatening emergency will get an ambulance response between 7am and 11am on Monday.
"People with injuries such as minor broken bones, women in routine labour, some patients with breathing difficulties or those involved in minor road traffic accidents will be given clinical advice, provided with alternative transport or told to make their own way to hospital."
On the day of action clinical managers will work on the front line and there will be additional support from hospital doctors and nurses, private ambulance crews, the police and military personnel.
Jason added: "We have plans in place for our most seriously ill and injured patients.
However, people who need an ambulance response, but are not in a life-threatening situation, should expect to wait longer or may not get an ambulance at all.
"We'd like to thank Londoners for their support in helping us get to the most seriously ill and injured patients. As always we ask that they call NHS111 and only call 999 for an ambulance in a genuine emergency so we have ambulance crews free to respond to life-threatening emergencies."
-Ends-
Notes for editors
Director of Operations, Jason Killens, is available for interview regarding our plans. Please call communications on 020 7783 2286 for more details.
Military and police drivers will not carry out any clinical care of patients. They will have training so they can help move patients and are familiar with Service vehicles.
Staff do not have to inform the Service if they plan to take strike action so the Service is unable to confirm exact numbers of ambulance crews and control room staff taking industrial action ahead of action.
Our patient transport service that takes people to hospital appointments will operate a reduced service.
For more information about London Ambulance Service visit http://www.londonambulance.nhs.uk/  or follow us on Twitter at  www.twitter.com/ldn_ambulance