London bike medics spin into social media on two wheels
London Ambulance Service doesn't just respond to over 1m incidents in the capital each year by ambulance; sometimes the Service sends a pedal-powered medic on two wheels.
The Cycle Response Unit (CRU), which celebrated ten years of responding to life-threatening calls at Heathrow airport this year, has taken to social media to give Londoners a glimpse into the life of a cycling first responder.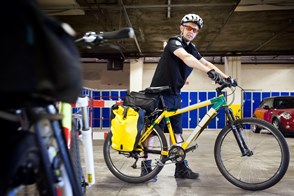 Tom Lynch, Cycle Response Unit manager, hopes @LAS_CycleTeam, CRU's Twitter account covering central London, Stratford, Richmond, Kingston, the City, Heathrow Airport, Canary Wharf and all London events enables two-way communication between medics and the public.
Tom said: "Twitter gives us the chance to show the range of different incidents we attend and how we respond on bikes to get to patients in need as quickly as possible.
"It's also a great way to talk with cycling organisations, engage in discussions about cycling safety and showcase the equipment we use."
The crew often share pictures of their bikes with the 800 followers, capable of carrying a full set of medical equipment including a defibrillator, made by Specialized and Cube.
If you'd like to learn more about what the Cycle Response Unit does, follow @LAS_CycleTeam.
List of Tweeters
Paul Davies, Team leader paramedic, tweets about the West End, London Bridge and Victoria
Jamie Frayne, Paramedic, tweets from The City, Shoreditch, Hackney, Dalston, Olympic Park
Mark Haughton, Paramedic, tweets from Heathrow Airport.
Ends
Notes to Editor
If you would like to speak to one of the Cycle Response Unit's tweeters, see what they do or you would like more high-resolution pictures, please contact the Communications department at 020 7783 2286 or email [email protected]