Stockwell man who survived a cardiac arrest learns to save a life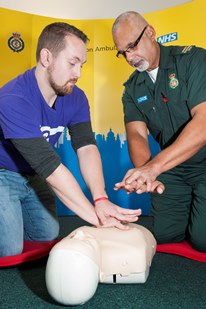 A man from Stockwell has learned how to help someone in cardiac arrest after he was brought back to life when he collapsed while playing football.
Paul Cowling, 28, was taught how to perform CPR and use a defibrillator by London Ambulance Service. He was just 27 when he had a cardiac arrest on Tooting Bec Common in November last year.
He said: "I was incredibly lucky that two of my friends knew how to do CPR and they gave me chest compressions until the ambulance crew arrived. Since then we've all learned how to do CPR, because we now know how important it is and how much it can help."
Recently released London Ambulance Service figures show that people who have a cardiac arrest in the capital are more likely to survive than ever before. Almost a third (32.4 per cent*) of patients whose hearts stopped beating were resuscitated and discharged from hospital last year – the highest survival rate since records began 15 years ago.
Medical Director Fionna Moore said: "Our staff are doing an excellent job resuscitating and stabilising patients and our call takers are giving instructions over the phone on how to do CPR and use a defibrillator until help arrives. But the public are also helping to save lives and we've seen more bystanders than ever before providing basic life support to cardiac arrest patients."
Last year, bystanders attempted cardiopulmonary resuscitation (CPR) on 1,967 cardiac arrest patients while ambulance staff were on the way – up four per cent from the year before. Chances of survival increase considerably when CPR is carried out.
Paul added: "It could have been a very different story for me. I'd urge everyone to learn CPR and to use a defibrillator so that more lives can be saved like mine was."
Paul was diagnosed with dilated cardiomyopathy and fitted with an internal defibrillator, which will restart his heart if it stops again in the future.
The London Ambulance Service is running the 'Shockingly Easy' campaign to get more defibrillators in shops, businesses and leisure centres across the capital. For information on CPR training or to get a defibrillator for your business call 020 7783 2366 or visit www.londonambulance.nhs.uk/shockinglyeasy
 – Ends –
Notes to editors:
• A cardiac arrest is when the heart stops pumping blood around the body. This is different to a heart attack, which is when an artery becomes obstructed, restricting the flow of blood to the heart.
• For further information about this news release please contact the communications department on 020 7783 2286.
*Utstein cardiac arrest survival rate
The Utstein cardiac arrest survival rate in London in 2013/14 is 32.4 per cent (187 survivors out of 578 cardiac arrest patients), up from 28.4 per cent in 2012/13. This is the highest level it has ever been in London.
Utstein is an internationally-recognised method of calculating out-of-hospital cardiac arrest survival rates and focuses on a subgroup of patients who have the best chance of a successful resuscitation. The calculation takes into account the number of patients discharged alive from hospital who had resuscitation attempted following a cardiac arrest of presumed cardiac cause, and who also had their arrest witnessed by a bystander and an initial cardiac rhythm of ventricular fibrillation or ventricular tachycardia (ie a rhythm that is suitable to shock using a defibrillator).