London Ambulance Service staff join Remembrance Day march past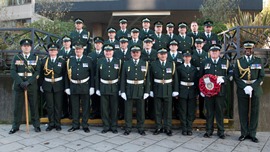 This Sunday, (9 November), past and present staff from the London Ambulance Service will be marching at the Cenotaph, Whitehall to mark Remembrance Day.
Joining the armed forces, political leaders and members of the royal family, the Service will commemorate those who lost their lives in the First & Second World Wars.
As well as the march past, the Service was represented at the opening of the Garden of Remembrance at St. Paul's Cathedral on Monday (3 November), where a cross was laid in homage to those who died.
Deputy Director of Operations Paul Gates was there. He says:
"London was one of the main areas that suffered during both world wars.
"It's extremely important we honour those who gave their lives for our country's freedom. This year is particularly poignant with it being 100 years since the start of the First World War.
"As ever, we are extremely proud to be part of the Remembrance Day events."
-Ends-
Notes to editors