Families flock to New Addington health fair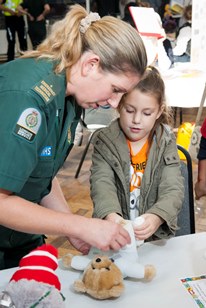 Nearly 200 people attended a free health fair in New Addington.
Organised and run by the London Ambulance Service, over 90 children came to the event, where they learned bandaging skills in the teddy bear hospital and had fake wounds painted on their faces.
Croydon Community Involvement Officer Vicki Hirst said: "It was great to see so many families come along. Not only was it fun for the children, but visitors could also get hearing and blood pressure checks as well as general health advice."
Visitors to the community centre also had the chance to look round old and new ambulances and learn how to save a life using cardiopulmonary resuscitation (CPR).
The Service was also joined by AT Medics, the Stroke Association, London Fire Brigade, Age UK, Croydon Health Services, New Addington Pathfinders and many others at the event on Friday (31 October) at New Addington Community Centre.
– Ends –
Notes to editors: