Defibrillators for Newham businesses
Local businesses in Newham encouraged to get a defibrillator at training event
Ambulance crews with resuscitation dummies and defibrillators will be showing local businesses and shoppers how they can become heroes and save someone's life in five minutes at an event in the Stratford Shopping Centre on Wednesday 22 October.
The event, which is being supported by Newham Council, is part of the London Ambulance Service's Shockingly Easy campaign to urge local businesses to get a defibrillator, a machine that can shock the heart to restart it when it's in cardiac arrest.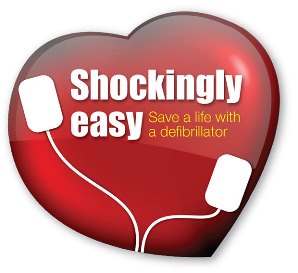 London Ambulance Service Chairman, Richard Hunt CBE, said:
"Our latest data shows that there were 304 out of hospital cardiac arrests in Newham in a year and 43 of these occurred in the street and locations like workplaces, gyms, shops, public transport and places of worship."
"When you have a cardiac arrest your heart stops, blood is no longer being pumped around the body and you are clinically dead.
"It's crucial that cardiopulmonary resuscitation (CPR – chest compressions and rescue breaths) and defibrillation is given to the patient in the first three to four minutes.
"Around 28 per cent of people survive an out of hospital cardiac arrest but, where there is a defibrillator and someone trained to use it, the chance of survival can increase to 80 per cent."
The council's offices at Newham Dockside are already equipped with London Ambulance Service's accredited defibrillators and it is hoped other organisations in Newham will follow suit.
Councillor Clive Furness, mayoral adviser for adults and health, said:
"We are proud to support the Shockingly Easy Campaign and I urge every business in Newham to get a defibrillator installed. It's absolutely vital that these life-saving machines are within easy reach of anyone who suffers a cardiac arrest as it could save their life."
The London Ambulance Service's Shockingly Easy campaign aims to get at least 1,000 extra defibrillators in shops, businesses, gyms and high footfall areas across London.
For more information on how to get a defibrillator for your organisation and training on how to use it call the Shockingly Easy campaign on 020 7783 2366 or visit www.londonambulance.nhs.uk/shockinglyeasy
-Ends-
Notes to editors
Defibrillator training will begin at 9am on 22 October in the Stratford Shopping Centre
There will be a photo opportunity at 12pm with ambulance crews and Newham Councillor Clive Furness. For more information or interview requests please contact the London Ambulance Service's communications department on 020 7783 2286
Interesting facts
London Ambulance Service's Shockingly Easy campaign provides support and advice to organisations on:
buying and installing a defibrillator
training staff on how to use a defibrillator
how to maintain their defibrillators and to become accredited with the London Ambulance Service
dispelling myths on defibrillators.
There are around 10,000 cardiac arrests every year in London – that is 27 a day.
A cardiac arrest occurs when the heart stops pumping blood around the body, and can be a result of heart attack, choking or trauma.
A cardiac arrest is different to a heart attack which happens when an artery becomes obstructed, restricting the flow of blood to the heart. The most common sign of a heart attack is chest pain, though there are other symptoms. Left untreated it can lead to a cardiac arrest, which is when the heart stops beating.
The 28 per cent of people surviving an out of hospital cardiac arrest is based on the Utstein survival rate where patients meet the following criteria:
Their cardiac arrest is witnessed by a bystander
The reason their heart has stopped is cardiac related e.g. heart attack rather than road traffic collision
Their heart is in a shockable rhythm.
London Ambulance Service's accreditation scheme ensures that organisations know how to correctly use, store and maintain a defibrillator.