Local businesses in Bromley encouraged to get a defibrillator at training event
Ambulance crews with resuscitation dummies and defibrillators will be showing local businesses and shoppers how they can become heroes and save someone's life in five minutes at an event in the Bromley intu shopping centre this Wednesday 8 October.
The event, which is being supported by Bromley Council and Bromley CCG, is part of the London Ambulance Service's Shockingly Easy campaign to urge local businesses to get a defibrillator, a machine that can shock the heart to restart it when it's in cardiac arrest.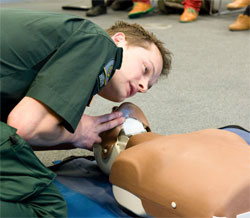 London Ambulance Service Chairman, Richard Hunt CBE, said:
"Our latest data shows that there were 412 out of hospital cardiac arrests in Bromley in a year and 37 of these occurred in the street and locations like workplaces, gyms, shops, public transport and places of worship"
"When you have a cardiac arrest your heart stops, blood is no longer being pumped around the body and you are clinically dead.
"It's crucial that cardiopulmonary resuscitation (CPR – chest compressions and rescue breaths) and defibrillation is given to the patient in the first three to four minutes.
"Around 28 per cent of people survive an out of hospital cardiac arrest but, where there is a defibrillator and someone trained to use it, the chance of survival can increase to 80 per cent."
The council's offices at Stockwell Close are already equipped with London Ambulance Service's accredited defibrillators and it is hoped other organisations in Bromley will follow suit.
Councillor Peter Fortune, Chairman of the Bromley Council Health and Wellbeing Board, said:
"Having a defibrillator close to hand when someone has a cardiac arrest could mean the difference between life and death.
"I urge every shop, gym, hotel and office in Bromley to call the Shockingly Easy campaign today to get a defibrillator installed."
Forty three year old Bromley resident, Michelle Edmonds, knows the benefit of receiving early CPR and defibrillation after her heart stopped beating.
Michelle, a nurse, suffered a cardiac arrest on April 23 last year but after being given immediate CPR by her husband David Edmonds and four defibrillator shocks by London Ambulance staff, who arrived on the scene shortly afterwards, her heart was restarted.
Michelle said: "I was very lucky that my husband had basic life-support training years ago and knew exactly what to do. If it wasn't for his quick actions and being shocked by a defibrillator, I wouldn't here today.
"A defibrillator saved my life. I want one to be within easy reach of anyone who suffers a cardiac arrest"
The London Ambulance Service's Shockingly Easy campaign aims to get at least 1,000 extra defibrillators in shops, businesses, gyms and high footfall areas across London.
For more information on how to get a defibrillator for your organisation and training on how to use it call the Shockingly Easy campaign on 020 7783 2366 or visit www.londonambulance.nhs.uk/shockinglyeasy
Notes to editors
Defibrillator training will begin at 9am on 8 October in the Bromley intu shopping centre
There will be a photo opportunity at 12pm with ambulance crews and Bromley Councillor Peter Fortune. For more information or interview requests please contact the London Ambulance Service's communications department on 020 7783 2286