Cycle paramedics celebrate 10 years at Heathrow Airport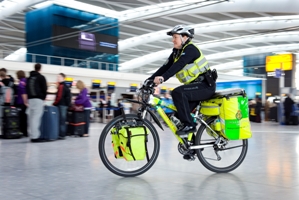 London Ambulance Service cycle paramedics at Heathrow Airport will be celebrating 10 years of treating patients and saving lives on Wednesday (August 6).
The Heathrow Cycle Response Unit (CRU) is made up of 15 life-saving paramedics who respond to 999 calls by bike at the world's busiest airport.
A ceremony will take place at Terminal 2, The Queen's Terminal to mark the anniversary with VIP guests, survivor airport worker Graham Clark who owes his life to the unit, and medic Mick Hampson.
Nine years ago to the day, on 6 August the British Airways worker was at work at Heathrow's Terminal One when he began to suffer severe pain in his chest and arms. Within seconds he lost consciousness and stopped breathing.
Within seconds of the 999 call being made, cycle medic Mick Hampson had reached Graham and was able to re-start his heart after three attempts, using the portable defibrillator, that is carried on ambulance bicycles. 
Mick said, "I was definitely in the right place at the right time. The fact that we are based here and I was able to get to him so quickly most probably made the difference between life and death."
Graham, who still works at Heathrow, who is attending the ceremony on Wednesday with his two grandchildren, said: "All I can remember is saying to my colleagues that my chest and arm hurt. After that, everything went blank."
He added: "I'm so grateful to Mick and my colleagues. It's as if I've been given a second chance."
Mick and Graham will be reunited at T2 to receive, on behalf of London Ambulance Service, a brand new cycle responder bike donated by Heathrow Airport Limited.
London Ambulance Service's Cycle Response Unit Manager, Tom Lynch MBE, said: "I want to congratulate and thank the dedicated Heathrow CRU team who do a vital job keeping Heathrow staff and its daily 191,000 passengers visitors safe and well.
"Overall, a total of 42,000 patients have been treated by the team and over 4,000 of them have been of a serious nature including cardiac-related problems. This is, to my knowledge, the world's first full time airport bicycle ambulance unit and the only such service in the UK."
Since 2004, thousands of people with relatively minor complaints through to life-threatening conditions have been cared for. Back in 2004-5, the total number of incidents the cycle paramedics attended stood at 473, and for 2013-14, had increased to 5,915.
Up to 75 per cent of patients now – compared to 34 per cent back in 2004 – are treated on scene, meaning the medic team deals with the incident alone, saving on the use of vital ambulance crews.
Mike Evans, Health and Safety Director at Heathrow said: "Keeping our passengers and everyone who works here safe is a core value for us. We are pleased to celebrate the anniversary of London Ambulance Service at Heathrow in this entrepreneurial partnership. Heathrow is proud to present this world class team with a new medically equipped bike to help take care for our future visitors."

Notes to editors:
Media is welcome to attend the ceremony on the departures level, T2, at 1.30pm on
6 August.
For further information about the London Ambulance Service or this news release please contact the communications department on 020 7783 2286 
Follow us on Twitter at www.twitter.com/ldn_ambulance or visit us on Facebook at www.facebook.com/londonambulanceservice