London Ambulance Service is heading to Australia to take their paramedics to the UK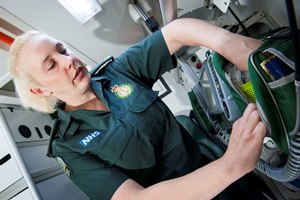 Australian paramedics are being urged to apply now for a chance to work for the world's busiest ambulance service in one of the most famous cities.
Up to 245 Australian paramedics who apply now will be assessed and interviewed in September when a team flies over from London to visit Sydney, Adelaide, Melbourne and Brisbane.
The Service's Director of Operations Jason Killens said: "We're looking to recruit paramedics from Australia where the skills and training closely match those in the UK. We'll be in Sydney, Adelaide, Melbourne and Brisbane for interviews and assessments but medics need to apply now.
"As the largest city in Europe and one of the most densely populated, the work of London paramedics is fast paced, but nowhere else will you experience such diversity. This month alone, we've treated tens of thousands of patients, including those at music concerts in Hyde Park and at Tour de France which came through London."
More paramedics are needed in London due to year-on-year increases in demand and because of a move to have more registered healthcare professionals overseeing patient care.
The campaign – London, No ordinary challenge – aims to recruit frontline staff, including 250 paramedics and will be recruiting both in the UK and overseas. The Service is offering support for prospective staff with their application, visa and relocation costs, and will cover the Health and Care Professions Council paramedic registration fee.
Once paramedics are recruited from Australia they will undergo a short conversion course enabling them to treat patients in the UK.
Emergency Ambulance Crew Verity Reinke said: "Moving from Adelaide to Europe's biggest city was an incredible change. There are better opportunities for career progression here than anywhere else and being exposed to more diverse cases and more exciting challenges is really improving my clinical skills.
"Nothing can beat the experience of working in this city. It's busier, faster and more exciting than anywhere else."
If you are interested in applying to work for us, please visit http://www.noordinarychallenge.com/
Notes to editors:
Medics need to apply now at www.noordinarychallenge.com to attend an assessment and interview in Australia on the following dates:

Sydney 8-9 September
Adelaide 12-13 September 
Melbourne 15-16 September
Brisbane 18-19 September 

For further information about the London Ambulance Service or this news release please contact the communications department on 020 7783 2286 
Follow us on Twitter at www.twitter.com/ldn_ambulance or visit us on Facebook at www.facebook.com/londonambulanceservice