Advice for Londoners as temperatures in the capital continue to climb
With temperatures in the capital expected to reach up to 32 degrees this week Londoners are being urged to take extra care in the sun.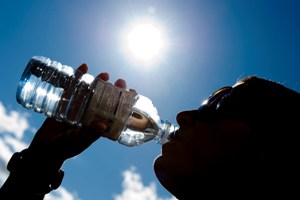 Director of Operations, Jason Killens said: "We always see a rise in 999 calls as temperatures rise; this is due to various reasons including people forgetting to keep hydrated and the heat making pre-existing conditions like asthma worse.
"I would urge all Londoners out enjoying the hot weather to stay safe by making sure you carry any medication you may need with you, keep cool by sitting in the shade, drink plenty of water and avoid drinking alcohol in the sun."
Staff in the control room answered 5,472 emergency calls yesterday (16 July) compared to 4,921 the previous Wednesday (9 July) an increase of 11 per cent.
Among the types of calls that the Service has seen an increase in are patients fainting and people with breathing problems.
Jason added: "Anyone with minor conditions should consider other healthcare options, such as calling NHS 111 or visiting a minor injuries unit, NHS walk-in centre or local pharmacist. If they need to go to hospital for non-emergency treatment, they should use a taxi or get a lift from a friend or relative."
Top tips:
Some people are more at risk from the heat than others – for example, older people, babies and young children
Try to keep as cool as possible – wear a hat when sitting or working outside and use plenty of suncream
Patients with chronic respiratory conditions such as asthma and bronchitis should carry their prescribed medication
People with serious health problems (for example heart conditions), should avoid going out in the heat, especially between 11am and 3pm
Drink plenty of water and avoid drinking alcohol in the sun
Consider other healthcare providers in the community such as your local pharmacy or walk-in centre for less serious illnesses and injuries. In an emergency always dial 999 for an ambulance.
Ends
Notes to Editors: