London Ambulance Service gears up for Tour de France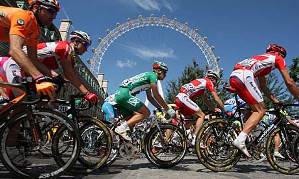 London Ambulance Service is planning for what is expected to be another busy Tour de France, the world's largest annual sporting event.
Up to half a million cycling fans will cheer on the cyclists along the route as the tour passes through London on Monday (7 July).
Director of Operations Jason Killens said: "With significantly larger numbers of people expected in the capital for the Tour de France, we have plans in place and are well prepared to provide medical help to the fans on the route and the rest of London as usual.
"We will be working with St John Ambulance and the race organisers on the day to ensure good medical cover."
More than 100 Service staff will be on duty dedicated to the event, working along the route providing medical care, from cycle and motorcycle response units to emergency ambulances.
Jason added: "Anyone planning to watch the tour should make sure they know where the medical treatment centres are so they can use these rather than calling 999 if they have minor injuries."
Top tips for keeping well along the route
In the event of hot weather make sure you try to keep as cool as possible – wear a hat when outside and use plenty of sun cream.
Those on prescribed medication should ensure they take it out with them, as they might be out longer than expected.
Drink plenty of water.
Only dial 999 for an ambulance in an emergency. Otherwise, consider contacting your doctor, pharmacist or NHS 111.
Notes to editors