Ambulance workers proud to be part of Pride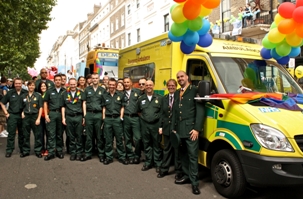 The London Ambulance Service is once again proud to be taking part in this year's Pride event on Saturday (28 June) with a large crew of medics and support staff parading three emergency vehicles through central London.
Thousands of people from all parts of London's lesbian, gay, bisexual and transgender (LGBT) community are expected to take part in the parade which culminates in a rally in Trafalgar Square.
This year, the Service will also be on hand offering medical cover to Pride revellers.
London Ambulance Service LGBT Forum Chair, Steph Adams, said, "Pride is just a fantastic, joyful day. We all go in our own time but we are proud to be seen in our uniform to show the public 'this is us, this is who we are' and that we're part of an accepting organisation. We always get a good reception from the crowds."
The Service is ranked in Stonewall's Top 100 Employers 2014, the definitive list of Britain's most gay-friendly workplaces.
Spectators who feel unwell or with minor injuries or illness on the day are being urged to make their own way to one of the treatment centres. This will be the quickest way to access medical help.
The Service is asking people to bring waterproof clothing or sun cream depending on the weather and to drink plenty of water. 
The annual Pride event has been going since 1972, and is now the second largest public event in the capital after the Notting Hill Carnival. Conchita Wurst, who won the Eurovision Song Contest in May, will headline the main stage.
Notes to editors: