Play it safe with alcohol during the World Cup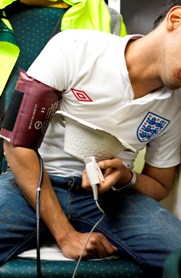 As the capital gets ready to embrace World Cup fever, the London Ambulance Service is urging people not to overdo it with alcohol during a summer of football.
A combination of too much alcohol and sunny weather can mean an increase in 999 calls into the Service's control room – particularly following big England games. For example, when England played the USA in their 2010 World Cup opening match, the call volume increased by 37 per cent after the game finished. 
Deputy Director of Operations Paul Gates said: "We know that big football tournaments make things busy for us, and our control room is expecting a high number of calls given the matches are in the evening.
"We hope that everyone will have a memorable summer of football but you won't end up in an ambulance because of too much alcohol.
"There are some easy steps you can take to have a great night, for example pace your drinking, have a meal before going out and have tactical soft drinks. If it's hot, stay out of the sun during the midday heat and avoid drinking alcohol.
"If football fans need medical help, there is a range of options available, including urgent care centres, walk-in centres, NHS 111, chemists or you can make your own way to hospital." 
A range of initiatives are in place to deal with the expected increase in 999 calls during the World Cup, including:
Extra staff on duty, both on ambulances and in our control room
Up to two alternative response vehicles – known as 'booze buses' – operating in central London. The vehicles are crewed by three members of staff and can attend people who are drunk and take a group of patients to hospital in one trip, rather than sending multiple ambulances.
Notes to editors:
For interviews with an operational lead and / or a paramedic, please contact Communications Officer Laura Palts on 020 7783 2286
For further information about the London Ambulance Service or this news release please contact the communications department on 020 7783 2286
Follow us on Twitter at www.twitter.com/ldn_ambulance or visit us on facebook at www.facebook.com/londonambulanceservice