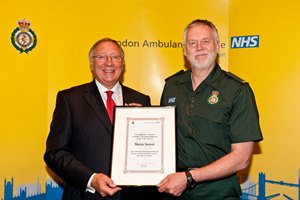 From delivering babies and rescuing people from fires to saving choking children and attending major incidents – ambulance workers have been recognised for their life-saving work in the capital.
 
London Ambulance Service staff who went above and beyond the call of duty, others who completed 20 years' service and those who retired with a combined 570 years' service, were all commended at a ceremony in Westminster last night (1 May).
Paramedic Martin Sawyer, 61, who officially retired from the Service after 33 years, recalled an incident many years ago when he was called to a woman with stomach pain.
He said: "When we reached the patient she was sitting on the toilet and on closer inspection there was a baby down the toilet, which was lifeless. We couldn't find a heartbeat so we cut the cord, and started to resuscitate him and warm him up."
Miraculously, they managed to save the baby and he was rushed to intensive care. Eight years later, Martin was called to treat a woman after a TV fell on her foot.
The father-of-three added: "While I was treating the woman, she said 'you're Martin aren't you? I'm the woman you helped with the baby in the toilet'. I couldn't believe that she remembered us. Then in walked her eight-year-old son, who she had named after myself and my crewmate. It really was unbelievable, and one of the highlights of my career."
Seven members of staff were given Chief Executive commendations, which recognises highly exceptional actions. These included a medic who broke down a door to help a patient in a smoke-filled room and two ambulance crews who were faced with violent patients.
Chairman Richard Hunt said: "We were incredibly proud to recognise these staff for their bravery and dedication. We heard how they've delivered hundreds of babies, saved choking children and attended many major incidents such as the Paddington train crash, the Chelsea bombings and the Brixton riots.
"Their commitment over the years has ensured that Londoners have received the very best urgent and emergency medical care."
-Ends-
Notes to editors:

• For further information about the London Ambulance Service or this news release please contact the communications department on 020 7783 2286.
• Follow us on Twitter at www.twitter.com/ldn_ambulance or visit us on facebook at www.facebook.com/londonambulanceservice