Fabrice Muamba backs ambulance service campaign to save more lives in London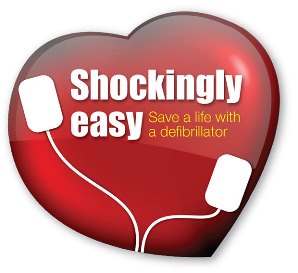 London Ambulance Service is today (1 May) launching a campaign to get 1,000 extra defibrillators in shops, businesses and gyms across the capital to save more lives.
The campaign is being launched with Marks & Spencer which is fitting defibrillators in its 86 London stores.
Ex-footballer Fabrice Muamba, who was famously shocked back to life with a defibrillator after going into cardiac arrest during a football match, is attending the launch event and lending his support to the campaign.
London Ambulance Service Chairman Richard Hunt CBE, said: "If you have a cardiac arrest, your heart stops beating and you are clinically dead. Every second counts which is why we want more defibrillators in public places to help us save more lives in London."
Around 28 per cent of people survive a cardiac arrest in a public place, but where there is a defibrillator and someone trained to use it, the chance of survival can increase to 80 per cent.
Fabrice said: "If it wasn't for a defibrillator I wouldn't be here today.
"I was lucky I had my cardiac arrest in the right place with the best medics around to help me. I want everyone who goes into cardiac arrest to have the same chance as me and that's why I'm supporting the London Ambulance Service campaign to get more defibrillators in public places."
By placing defibrillators in public places and training people to use them as well as carrying out CPR, more lives could be saved.
Keith Davis, Fire, Health and Safety Manager at Marks & Spencer, said: "Our position at the heart of community high streets and large footfall shopping destinations means that our stores are perfect venues to host defibrillators.They save lives and we know that having one in every London store will save a life in an M&S store in the future.
"We're training over 1,000 first aiders to use them in our stores and with the support of the London Ambulance Service we are making shopping in London safer than ever before."
M&S will roll out the defibrillators across London and its partner Ashbury Training will train over 1,000 customer assistants over the next three months.
Defibrillators can be used by members of the public and they are safe and shockingly easy to use with training.
Richard said: "Don't leave it too late to do the right thing. Every shop, gym, hotel and office in London should have a defibrillator so they're ready to save a life in London.
For more information on how to get a defibrillator for your business and training on how to use it call on 020 7783 2366 or go to www.londonambulance.nhs.uk/shockinglyeasy
Ends
Notes to editors
Journalists and photographers are invited to attend the launch event. For more information, pictures or interview requests please contact the communications department on 020 7783 2286
A defibrillator is a machine that delivers an electric shock to the heart to restart it
There are over 10,000 cardiac arrests every year in London – that is 27 a day.
There are 2,322 sites or organisations which have at least one defibrillator in London but we would like to see 1,000 extra defibrillators locations by next year.
A cardiac arrest occurs when the heart stops pumping blood around the body, and can be a result of heart attack, choking or trauma.
A heart attack happens when an artery becomes obstructed, restricting the flow of blood to the heart. The most common sign of a heart attack is chest pain, though there are other symptoms. Left untreated it can lead to a cardiac arrest, which is when the heart stops beating.
In London a cardiac arrest is most likely to happen between 8am and 12pm on a Monday in December and the average person is a 68 year old white man.
For more advice on getting a defibrillator for your business or for training on how to use it  – call us on 020 7783 2366 or go to http://www.londonambulance.nhs.uk/shockinglyeasy
Follow us on Twitter at www.twitter.com/ldn_ambulance or visit us on facebook at www.facebook.com/londonambulanceservice
Look at our latest photos from around the Service at www.flickr.com/londonambulance