Over £10,500 raised for Ben Kinsella Trust by Service runners
Staff from across the Service raised over £10,500 running the Virgin Money London Marathon on Sunday 13 April, and the fine weather kept spirits high as they crossed the finishing line.
The runners took on the 26.2 mile challenge wearing purple vests to raise money for the Chief Executive's charity, the Ben Kinsella Trust, which aims to prevent knife crime in the capital.
Brooke Kinsella MBE, actress and Ben's sister, tweeted the Service's runners were her "heroes" for fundraising for the Ben Kinsella Trust.
112 team members were on duty, working with 1,200 volunteer first aiders from St John Ambulance, to provide medical help to athletes, fundraisers and spectators.
Here's what some of our runners had to say about the experience:
Nicola Burnaby-Davies, Paramedic, Silvertown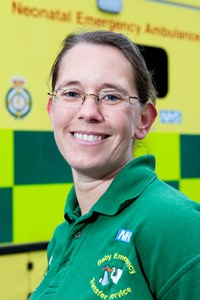 "Running the London marathon was a brilliant experience, the whole day was amazing and the atmosphere was fantastic.
"The weather was probably a few degrees warmer than I would have liked but I'm pleased to have finished and in good time.
"The event has managed to raise a lot of money for a worthwhile cause and I am proud to have played a part."
Yasir Aslam, Paramedic, Pinner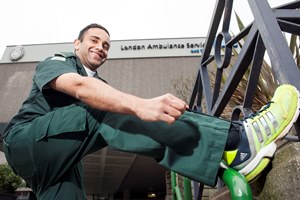 "This was my first ever marathon and I started running in January and at the start, it was hard to juggle training with my shift pattern.
"All my training had been in cooler conditions than we saw on Sunday but it was just a case of drinking lots of water and making sure I didn't get dehydrated.
"I was very proud to raise money for the Ben Kinsella Trust after meeting Ben's dad and visiting the Trust's exhibition."
Chris Delaney, Area Controller, EOC, Bow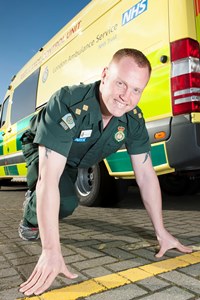 "I would thoroughly recommend running the marathon. It was a great day and a fantastic experience.
"The crowd and the atmosphere were amazing, especially in the last six miles when you are starting to struggle. It gives you a much needed boost.
"The total amount raised by myself and my colleagues for the Ben Kinsella Trust is staggering and running for such a great charity made it all worthwhile."
Russell Lobjoit, MRU Paramedic, Waterloo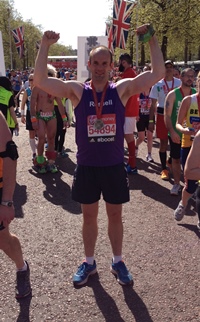 "I'm still feeling a bit sore and I thought after I finished I'd never want to do it again, but I really want to do it again next year and I'd recommend it to anyone.
"This was my first marathon and the training was tough especially trying to fit it in around my shift patterns.
"It was great to raise money for the Ben Kinsella Trust as they're doing great work with the young people of London and it was a pleasure to help."
Ann Radmore, Chief Executive of the London Ambulance Service, said: "I am very proud of the Service's staff who trained hard for months in order to take part in the marathon and managed to raise over £10,000 for the Ben Kinsella Trust.
"I'd also like to thank the Service responders and St John volunteers who helped make the day safe for runners and spectators.
"The Service voted to fundraise for the Ben Kinsella Trust in February and our staff have seen first hand the consequences of knife crime and we are proud to support a charity doing such important work in the capital."
Ends
Notes to editors
The Ben Kinsella Trust was set up in 2008 after the tragic murder of Ben Kinsella, a sixteen-year-old schoolboy from north London, by members of his family. It promotes awareness of knife crime and educates young people about the consequences of knife crime.
For further information about the London Ambulance Service or this news release, including high resolution images, please contact the communications department on 020 7783 2286.
Follow us on Twitter at www.twitter.com/ldn_ambulance or visit us on Facebook at www.facebook.com/londonambulanceservice