Paramedics ready for marathon, on and off the track
The London Ambulance Service is ready for this Sunday's Virgin Money London Marathon providing medical help to elite athletes like Mo Farah, runners, fundraisers and spectators.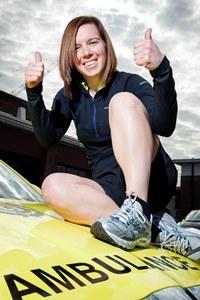 Sixteen Service staff will pound the pavement with Mo and the 36,000 other runners on the 26.2 mile course from Greenwich to Westminster and the draw of the Olympic Champion means spectators could number 600,000.
The Service also expects the return of the 'Mobot' will mean a 'carnival atmosphere' reminiscent of the spirit during the London 2012 Olympics.
As a result, the Service is preparing for one of the busiest marathons in London and 112 staff will be working on the day, in partnership with 1,200 St John volunteer first aiders.
The Service's cycle and motorcycle responders will be in attendance, as well as responders on foot who are well suited to emergencies in densely crowded areas.
Graham Norton, Ambulance Operations Manager, who will be overseeing the operation, said: "This is a great event and we hope that everyone who attends the marathon has a wonderful time.
"As always, we will be working closely with our colleagues from St John Ambulance, who will have treatment centres along the route, and other emergency services to make the marathon as safe as possible.
"I would urge people with minor injuries and illnesses to make their own way to one of the treatment centres. This will be the quickest way to access medical help.
"Spectators can help themselves by making sure they bring with them any prescription medicines, suncream or even waterproof clothing depending on the weather. It's also important to drink plenty of water. 
"If there is a medical emergency, dial 999 with details of what has happened and the exact location where help is required, taking note of the street name and nearest junction if you can see it."
-Ends-
Notes to editors
Sixteen Service staff will be running the marathon for the Chief Executive's charity, the Ben Kinsella Trust.  To support their effort, go to http://www.justgiving.com/teams/LASBenKinsella
In 2013 over 4,500 people received treatment from St John Ambulance and the London Ambulance Service.
For further information about the London Ambulance Service or this news release, including high resolution images, please contact the communications department on 020 7783 2286.
Follow us on Twitter at www.twitter.com/ldn_ambulance or visit us on Facebook at www.facebook.com/londonambulanceservice