Flu campaign wins award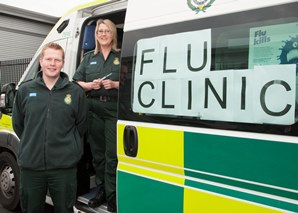 The London Ambulance Service has won an award for its flu bus, which took vaccines to staff out on the road to ensure they were able to protect themselves and their patients against the virus.
The initiative won the top spot in the 'innovative flu fighter campaign' category at the NHS Employers National Flu Fighter Awards, presented at a ceremony in Leeds this week.
Staff Officer James Johnson (pictured) coordinated the project in the west area of London. It operated between October and January and 167 staff were vaccinated.
James said: "We're thrilled to have won. The idea was to take the vaccine to our frontline staff. Using the flu bus, staffed by colleagues on restricted duties, there was minimal impact on staffing and maximum impact on protecting staff and vulnerable patients from the seasonal flu virus.
"Having a mobile clinic ensured that whilst staff were on duty, they still had the option of receiving a flu jab during their shift.
"We hope to develop the idea further for the future and improve on it."
The minibus, equipped with a portable vaccine fridge and vaccinator team, covered 24 ambulance stations, as well as busy A&E departments.
Almost 2,000 London Ambulance Service staff have had the flu jab this winter – that's 45 per cent of the workforce.
– Ends –