'Super paramedics' to look after Londoners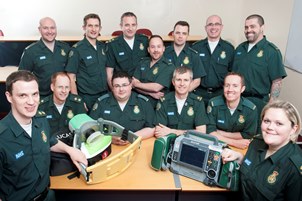 The London Ambulance Service has appointed its first advanced paramedic practitioners who will be treating the most seriously ill and injured patients in the capital from May.
The 12 advanced paramedics will receive additional training and will respond to the most serious one to two per cent of life-threatening incidents. These include patients in cardiac arrest and those who are continually fitting and are difficult to convey to hospital. They will also be able to administer more powerful drugs currently only given by a doctor.
Their training will include a four day trauma course with doctors from the Service and London's Air Ambulance and an advanced paramedic science course at Hertfordshire University.
Clinical Team Leader Chelsey Pike is one of the successful applicants. She said: "I thought it was a new and exciting opportunity and I'm all for developing my career.
"The Service is pioneering in terms of training and drugs trials and I think this will keep us at the forefront. It's also a great promotional opportunity that allows clinicians to remain largely clinical, rather than go into a managerial role."
Director of Paramedic Education and Development Mark Whitbread said: "We are very keen to develop the paramedic profession. Paramedics are a trusted brand but there is a lot more we can do by developing our paramedics as really skilled clinicians.
"Appointing advanced paramedics shows our determination to do better, both for our patients and our staff."
The role was introduced as part of the clinical career structure. Twelve advanced paramedics have been appointed and subject to funding, a further 24 will be recruited.
Notes to editors: