Secretary of State for Health responds to 999 call with London Ambulance Service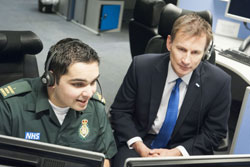 London Ambulance Service welcomed Secretary of State for Health Jeremy Hunt to its Waterloo control room today and told him paramedics "can and want to do more" for the NHS.
During his visit the Secretary of State responded to a 999 call in a fast response car with a paramedic and listened to emergency calls in the control room.
He met Chairman Richard Hunt and Chief Executive Ann Radmore who briefed the Secretary of State on the growing clinical expertise of paramedics.
Ann said: "The majority of our paramedics are now graduates and are highly skilled clinicians able to treat and discharge patients in their home.
"We agree with NHS England's Dr Bruce Keogh, the NHS needs a major change in how it provides urgent care with more and better services outside hospitals. Our paramedics can help deliver this."
During his two hour visit the Secretary of State met control room staff, including Emergency Medical Dispatcher Dabs-Chirakal Lynch (pictured), and accompanied Paramedic Declan Tudor on emergency calls in a fast response car. They were called to a road traffic collision involving a cyclist and a pedestrian in Tavistock Square. Mr Hunt observed as Declan treated the patient for a leg injury, stabilising him at the scene and gave him pain relief. An ambulance crew then took the patient to hospital.
The Secretary of State said: "London Ambulance Service is one of the busiest in the country. They are literally at the front-line providing life-saving care but, just as importantly, also responding to a large number of patients with less serious and long term conditions. I was so impressed by the professionalism and expertise of the highly trained team I shadowed this morning."
Mr Hunt went on to attend another incident where the patient had a less serious hand injury.
Declan, a paramedic science graduate, said: "I hope it was helpful for the Secretary of State to experience the variety of different incidents we are called to.
"Paramedics are highly skilled clinicians with excellent diagnostic skills. We can and want to do more for patients in their home or at the scene of incidents which in turn reduces the pressure on London hospitals."
Notes to editors
Pictures available from the communications department on 020 7783 2286.
Secretary of State, Jeremy Hunt MP, also met Dr Fionna Moore MBE, Medical Director, Jason Killens, Director of Operations, Mark Whitbread, Director of Paramedic Education and Development, Deputy Medical Director Fenella Wrigley and Head of Control Services Katy Millard.
For further information about the London Ambulance Service or this news release please contact the communications department on 020 7783 2286.
Find out more about the London Ambulance Service at www.londonambulance.nhs.uk or follow us on Twitter at www.twitter.com/ldn_ambulance