Motorcycle paramedics responding to emergencies in Croydon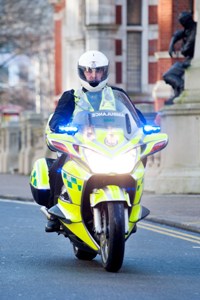 Paramedics on motorcycles are responding to emergencies in Croydon to provide a better life-saving response to more patients.
The motorcycle response unit, which started running out of Croydon ambulance station in June, is set to continue until April 2014 to ensure that Croydon continues to receive a safe service during the winter months.
The motorcycle responder goes to Croydon's emergency calls from 6:30am to 11:30pm seven days a week and last month went to 150 incidents categorised as our most seriously ill or injured patients.
Ambulance Operations Manager for Croydon, Victoria Graham said: "In built-up areas motorcycle paramedics can respond to 999 emergency calls more quickly than ambulances and cars, and can assess patients and administer life-saving medical treatment while an ambulance is on the way.
"With winter underway we have plans in place to ensure we maintain a safe service to those living and working in Croydon and the motorcycle responders are a fantastic way to reach those who need us quickly".
-ENDS-
Notes to editors: