London Ambulance Service in top 20 best gay-friendly workplaces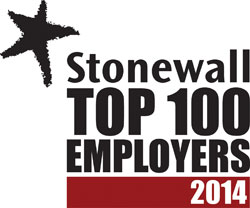 The London Ambulance Service has been named amongst Britain's top 20 most gay-friendly places to work.
The charity Stonewall placed the Service 19th in its Top 100 Employers list 2014, published today (15 January), of the best employers for lesbian, gay, bisexual and transgender staff.
Duty Station Officer and Co-Chair of the Service's Lesbian, Gay, Bisexual and Transgender  Forum, Lee Hyett-Powell, said: "We're delighted to be in the top 20 and to have improved again for the third year running is amazing.
"The news is especially welcome because it gets more difficult every year as the competition gets tougher."
The Service, which achieved 94th place in 2012 and 22nd last year, was rated the second highest NHS organisation in the list and is one of only two ambulance trusts to make the top 100.
Lee added: "We're very proud at the London Ambulance Service to say that we're a supportive and inclusive organisation, we try to break down barriers people face, and offer a working environment where all staff feel comfortable being themselves.
"The important thing now is that we maintain this high level and continue to improve."
For the full list of the top 100 visit http://www.stonewall.org.uk/at_work/stonewall_top_100_employers/default.asp
-Ends-
Notes to editors
For further information about the London Ambulance Service or this news release please contact the communications department on 020 7783 2286.
Find out more about the London Ambulance Service at www.londonambulance.nhs.uk or follow us on Twitter at www.twitter.com/ldn_ambulance