Emergency calls set to soar as London welcomes in 2014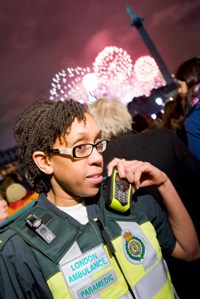 London Ambulance Service is gearing up for its biggest night of the year when thousands of revellers descend on the city to welcome in the New Year.
New Year's Eve is expected to be an exceptionally busy night and the Service is asking party-goers to drink sensibly and only call in a genuine emergency.
Last year – at the busiest times – the Service was taking over 600 calls an hour when normally it would only take around 180.
Assistant Director of Operations, Katy Millard, who is leading the Service's response on New Year's Eve, said: "It will be a busy night for us across the capital as Londoners go out to celebrate. But we're also expecting hundreds of thousands of people to attend the event in central London."
To help respond to anyone who becomes unwell or injured in the event area, 200 St John Ambulance volunteers will run 13 treatment centres. While medics in the event area will work in teams of three – a paramedic, technician and St John Ambulance volunteer – on foot, carrying full medical equipment with them, including a defibrillator, oxygen and a carry sheet to use as a stretcher. They will be able to weave in and out of the crowds where it is too busy to take an ambulance.
Katherine Eaton, Events Manager for London St John Ambulance, said: "If you need medical help make your way, if you can, to one of our treatment centres. In an emergency ask for help – or get a friend or passer-by to do it for you – from a steward, security official, first aid volunteer or police officer. Only dial 999 as a last resort."
Katy added: "Many of the people we are called to on New Year's Eve have injured themselves or become unwell because they've had too much to drink.
"We want people to have a good time but not get so drunk that they need an emergency ambulance and the help of two medics. Please don't let this happen to you as we need to ensure our ambulances are available for those who genuinely need them on what we're expecting to be the busiest night of the year.
                                               
"Every year we get busier and busier so our New Year's message to Londoners is use us wisely and only call in an emergency. Where possible please consider using other NHS services such as a pharmacy, GP surgery or walk-in centres or by calling 111 for non-emergency health advice."
How you can have a safe night out
Eat before drinking: food soaks up alcohol, slowing it down on its way into the bloodstream. It will provide more energy, and lessen the effects the next day.
Drink lighter beers: stronger continental beers are popular, but make for a messy night and a bigger hangover. The difference between a pint of 5% lager, and a 3.5% or 4% one is one unit.
Set a drinks limit: plan what to drink in an evening and stick to it.
Have a strategic soft drink: this keeps the body hydrated, and will lessen the effects the next day.
Avoid drinking in rounds: this can often mean drinking at a faster pace set by another one of the group.
Be your own person: nobody should feel as though they should have to drink something if they don't want to, and real friends should respect each others' wishes.
Keep track of what you've had: it is hard to say 'That's my limit tonight' if you don't know how much you've had.
Use more mixers: diluting a drink with another mixer will make it last longer, and lessen the effects.
Drink smaller drinks: A large glass of wine in most bars is equivalent to a third of a bottle!
Plan your journey home: Don't leave it to chance – think about how you're going to get home, and who with, before you go out. Make arrangements before you start drinking, and make sure you don't get left to walk home alone.
Notes to editors
Pictures of our medics responding on previous New Year's Eve are available by emailing

[email protected]

or calling 020 7783 2286.
For live updates from London Ambulance Service on New Year's Eve please follow us on Twitter at www.twitter.com/ldn_ambulance
Locations of the 13 St John treatment centres:
1. Trafalgar Square (west side)
2. Charing Cross Station
3. Parliament Square / Great George Street
4. Belvedere Road / Westminster Bridge Road
5. The Mall (near the Duke of York Steps)
6. Whitehall Court
7. Embankment Place
8. Temple Place / Surrey Street
9. BFI IMAX Cinema
10. Savoy Place / Embankment
11. Waterloo Station
12. Leicester Square
13. Piccadilly Circus
For further information about the London Ambulance Service or this news release please contact the communications department on 020 7783 2286.