Six-year-old Riley and his life-saving calls
A heroic boy from Romford has been named a 'superstar' after raising the alarm for help when his mum was taken ill at home.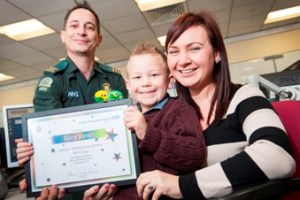 Six-year-old Riley Jones pressed the Careline alarm when his mother, 29-year-old Nikki Jones, had a seizure leaving her unconscious and shaking on the floor.
Riley who was at home with his three-year-old sister at the time, was called back by London Ambulance Service Emergency Medical Dispatcher, Mark Watson. He said: "I've been a call taker for 17 years, and speaking to Riley was the best call I've ever had."
Riley was invited to visit the ambulance control room yesterday (11 December) to meet Mark, who gave him a certificate for his bravery.
Mark added: "When I spoke to Riley, I was so reassured by him – he was so calm and an absolute superstar.
"He told me his mummy was poorly and his full address so I could get help to him as soon as possible."
Nikki of Straight Road, Romford was involved in a car accident eight years ago and has suffered from sudden seizures ever since. She said: "Riley has been ringing for help for me since he was two years old.
"There is no warning to my seizures; they can happen at any time.
"Riley is my angel, he is absolutely brilliant – I've lost count of the times he's had to call for help for me.
"My family and I all know how brilliant he is, but it's great for him to get this recognition – you forget he is only six years old."
Riley, who has even managed to call a relative in Australia once for help, said: "When mummy is poorly, I make sure I get her a blanket and a cuddly toy to keep her company.
"Next time I ring for help, I'm going to ask for Mark."
-ENDS-
Notes to editors: