Christmas message to City drinkers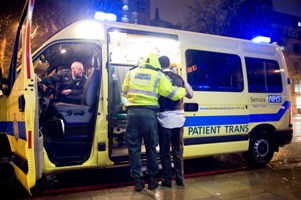 Festive drinkers in the City, who overdo it with alcohol, will be treated by medics at an alcohol recovery centre at Liverpool Street station during the party season.  
London Ambulance Service will send a specially adapted ambulance – better known as the 'booze bus' – to patients with alcohol-related injuries and they will be taken to the centre. The vehicle can carry up to three patients at a time helping to free up frontline ambulances to respond to patients with life-threatening injuries.
Last December the Service treated 4,505 patients with alcohol-related injuries in the capital and it is expected to be just as busy this year.
Ambulance Operations Manager Nick Yard said: "We want people to have a good time but we know from experience that many Londoners drink far too much alcohol on a night out, especially during the festive period.
"Most patients we look after have nothing wrong with them medically and just need a safe place to sober up. But excessive drinking can cause injuries, like sprains and cuts, and impair your judgement putting yourself at risk.
"Please drink responsibly so that you don't end up in the back of the 'booze bus' or in the treatment centre."
The alcohol recovery centre – run jointly with St John Ambulance – provides an alternative to busy A&E departments and can help to free up hospital beds. It has ten beds and can treat up to 25 patients a night. Medics and volunteers will monitor patients' blood pressure and blood sugar levels allowing them to sober up before discharging them or contacting their families and friends to collect them.
We will also operate a 'booze bus' for the first time in the Romford area from Friday 13 December.
Nick added: "There are some common sense steps you can take to have a safe night out, like eating a proper meal before going out and pacing your drinking. Also, have a plan on how you are getting home and look after your friends.
"Anyone with a minor illness or injury or who wakes up a little worse for wear should think about using other healthcare options, such as visiting the local pharmacist or calling 111.
Click here for tips for a safe night out.  
Notes to editors:
We have received extra funding to run the centre and the 'booze buses'.
The alcohol recovery centre is open for 16 nights in December.
The Soho alcohol recovery centre treated 158 patients and the 'booze bus' responded to 289 incidents in the West End in December 2012.
For more information about this release please contact the communications department on 020 7783 2286.
Follow us on Twitter at www.twitter.com/ldn_ambulance visit us on facebook at www.facebook.com/londonambulanceservice