London paramedic helps typhoon victims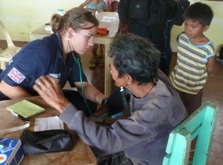 A paramedic has travelled to the Philippines as part of a disaster response team to help those affected by Tyhoon Haiyan.
Susanna Trow, 27, has volunteered for Emergency Response Team Search and Rescue charity for the last three years. She was part of a 16-strong group of volunteers from the UK and Canada made up of mainly medical and emergency services personnel.
Susanna, who has worked for the London Ambulance Service for five years, said: "We were taken to some small islands by helicopter that had not been accessible before and we set up a medical centre in a nearby school that had been badly damaged.
"The conditions were sweltering and there was a long queue of hundreds of people coming to see us. Most patients had wounds that needed cleaning and dressing and antibiotics and there were lots of people with foot and leg injuries due to the amount of debris everywhere."
The medics stayed to treat patients while the rest of the group worked to clear roads, paths, schools and other buildings.
Susanna, who was away for 10 days, added: "We were the first team to get any help to these people and they had been without food, power or electricity for two weeks. It was quite emotional at times.
"I'm proud that the team was able to go out there and make a difference. It will take them years to rebuild their lives and it makes you really appreciate what you've got."
To donate to the charity visit http://www.justgiving.com/ERT-Search-and-Rescue-UK
– Ends –
Notes to editors: