Cardiac arrest survivor learns lifesaving skills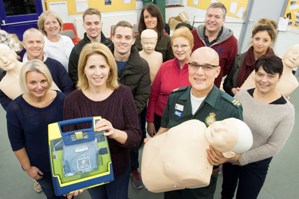 A cardiac arrest survivor learnt lifesaving skills with her friends and family at a training session in Bromley last week (19 November).
Michelle Edmonds, 42, collapsed and stopped breathing in April and she was given cardiopulmonary resuscitation (CPR) by her husband David.
She said: "I'm living proof that a cardiac arrest can happen to anyone and I know that if David hadn't performed CPR, I wouldn't be here.
"Many of my friends admitted they wouldn't have known what to do which is why I got in touch with the London Ambulance Service. The session gave us the confidence to act should we find ourselves in an emergency situation."
Earlier in the year Michelle and David were reunited with the ambulance crews who treated her. 
If you would like to learn life support skills, please visit http://www.londonambulance.nhs.uk/resustraining or call us on 020 7783 2534. We run monthly two-hour training sessions in City Hall and these cover how to perform CPR, putting someone into the recovery position, defibrillator familiarisation and treating major bleeding and adult choking. 
Notes to editors: